Southern University Law Center prepares for 2020 Alumni Weekend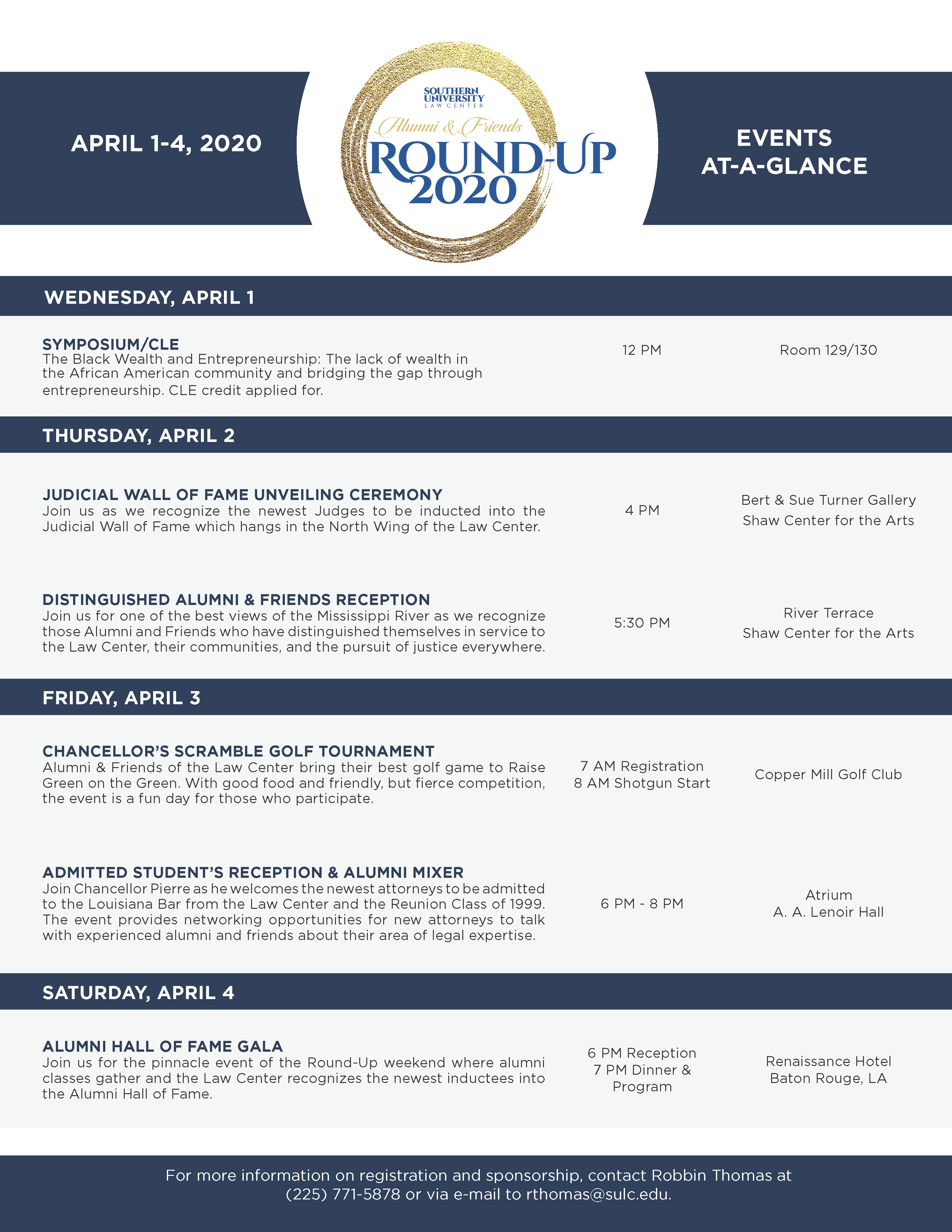 The Southern University Law Center would like to welcome its alumni and friends to a week of recognition, reconnection and networking at the annual Alumni and Friends Round-Up taking place April 1- 4.
"The Round-Up is our premier fundraising event. We host it annually to raise funds to assist our law students with the financial and educational resources necessary to excel in their classroom and career development," said Robbin Thomas, Director of Alumni Affairs/Annual Fund.
The week's events start with a continuing legal education (CLE) symposium focusing on black wealth and entrepreneurship. Panelists will discuss the lack of wealth in the African American community and bridging the wealth gap through entrepreneurship. Legal professionals will be able to earn CLE credits.
Our alumni continue to be legal changemakers who proudly represent the Law Center. The Distinguished Alumni reception and Alumni Hall of Fame gala are held to honor chosen alumni for their outstanding achievements. The reception will be held on Thursday, April 2 at The Shaw Center, and tickets can be purchased for $50. The gala is held on Saturday, April 4 at the Renaissance Hotel. General tickets are $100.00 for alumni and guests, and currently enrolled students can purchase a ticket for $60.00. Honoree names will be announced at a later date.
The eagerly anticipated Chancellor's Golf Scramble is on Friday, April 3 at the Copper Mill Golf Club. Registration will start at 7 a.m., and the shotgun will start at 8 a.m. The entry fee for individual players is $150.00 and $600.00 for a team of four.
Other featured activities include a Judicial Wall of Fame Unveiling Ceremony on April 2, and an Amitted Student's Reception & Alumni Mixer on April 3.
"It's always great to have our alumni come back home to the Law Center," "We're looking forward to a great week of recognition, networking and professional development." said the Law Center Chancellor John Pierre
Special group rates are available for Law Center alumni during the Round-Up from select hotels in the metro area.
Please contact Robbin Thomas at rthomas@sulc.edu or visit www.sulc.edu/roundup for more information on the week's itinerary, as well as hotel accommodations.
To register for the golf scramble, contact Mary Johnson at mjohnson@sulc.edu or Koshaneke Gilbert at kgilbert@sulc.edu.
RSS News Feed