Southern University Law Review is proud to announce its Symposium Topic for 2022:
For the People: Voting Rights Symposium
Voting rights are under attack across America. As a growing number of states pass voter suppression laws, the efforts to fight against these laws grow exponentially also. The real crux of our nation's voting problem is the failure to recognize the fundamental nature of our citizen's right to vote.
New voter suppression laws and redistricting plans are reminiscent of old Jim Crow laws in the South. Our very own state of Louisiana is not far removed from the stench of blood spilled in the name of democracy. One of the deadliest massacres in Reconstruction-era Louisiana, which terrorized African American voters, occurred in Opelousas in September of 1868. Upwards 200 plus people lost their lives during this tragic event. Our nation's history is replete with examples of certain segments of society acting to stifle the voting rights of minorities. This symposium will discuss the historical development of race and voting, the debate of fundamental rights, and the effects of redistricting, reapportionment, and restricting.
The core of the symposium will comprise a series of articles/essays to be published exploring the topic. Authors are welcome to submit their articles for print submission via SULRsymposium2022@gmail.com.
We will host our virtual symposium slated for March 11, 2022, featuring a host of influential scholars and practitioners.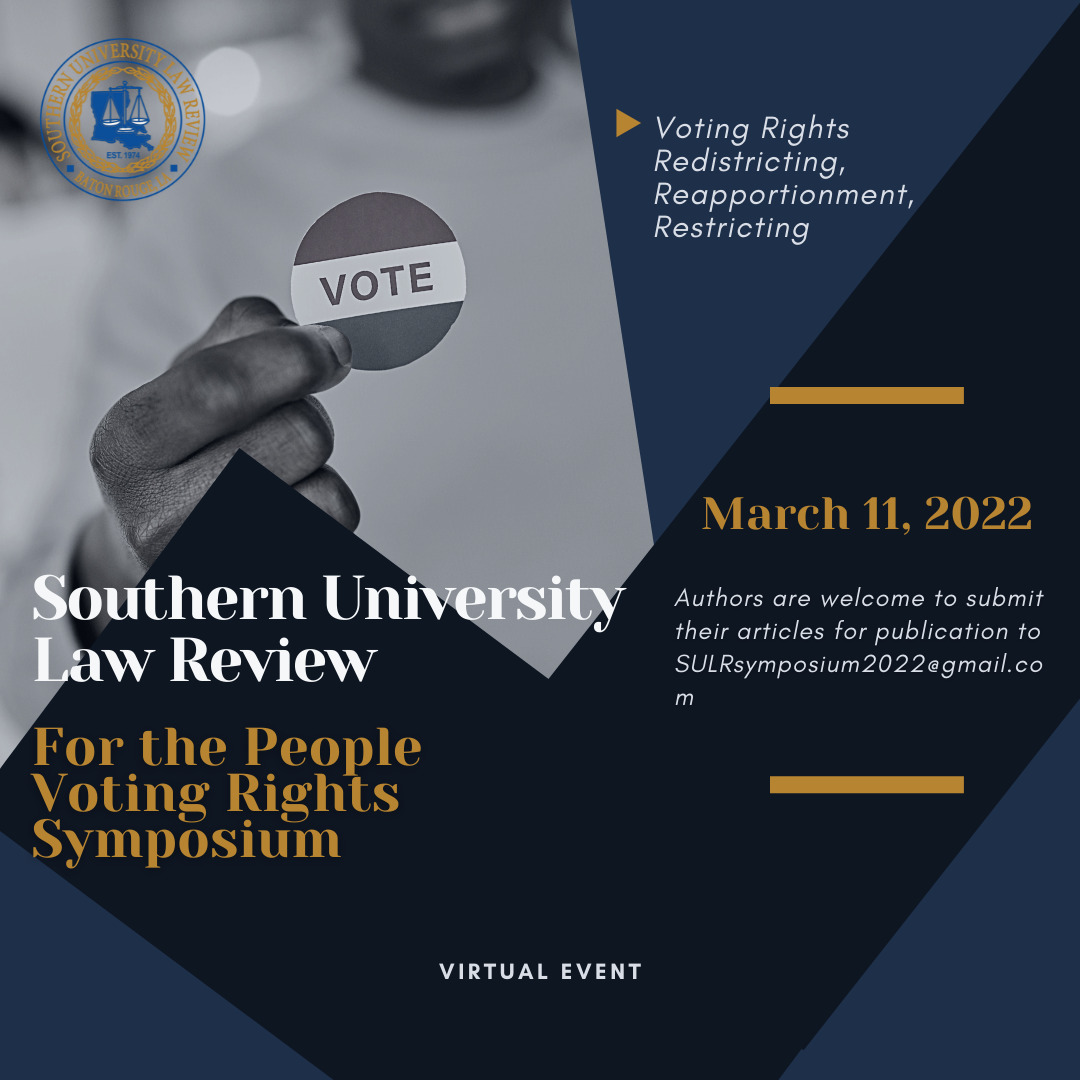 ---
Volume 49: Board of Editors Announced
The Volume 48 Board of Editors of the Southern University Law Review is pleased to announce and congratulate the following members who have been selected as the Editorial Board for Volume 48 (2021-2022).
Editor-in-Chief: Shearil Matthews
Executive Editor: Ali Leblanc
Managing Editor: Micaela Simpson
Articles Editor: Jaina Green
Current Issue: Volume 48
The Effects of Parental Narcissistic Personality Disorder on Families and How to Defend "Invisible Victims" of Abuse in Family Court
Emily Labatut
Property Rights are Constitutional Rights: Knick v. Township of Scott
Alexandra LeBlanc
The Pension Benefit Guaranty Corporation's Claim Calculation Method in Bankruptcy: ERISA's Valuation Regulation, or the Prudent-Investor Standard?
Shearil Matthews
Closing the Loophole: A Critical Analysis of the Peremptory Challenge and Why it Should be Abolished
LaCrisha L. A. McAllister
The Pendency of Deferred Action for Childhood Arrivals (DACA) Program and Confusion Post Scotus Decision: Department of Homeland Security v. Regents of the University of California
Hacer Kandara
Concubine or Dependent: Perez v. Irby Construction Co. and the Antiquated Workers' Compensation Statutes Barring Dependents
Yadira Crespo-Orosco
Abortion Regulations: An Avenue for Abolishing Abortion?
Jaina D. Green
---