Professor Katherine Macfarlane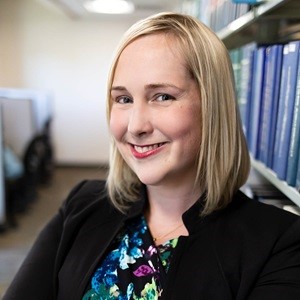 Professor Katherine Macfarlane writes about civil rights and civil procedure. She is a leading expert on excessive force litigation. Her articles and essays have appeared in the Alabama Law Review, the Yale Law Journal Forum, the Utah Law Review, the Stanford Journal of Civil Rights & Civil Liberties, the Michigan Journal of Race & Law, the Columbia Law Review Forum, the Missouri Law Review, and Feminist Law Judgments, among others.
Professor Macfarlane is Chair-Elect of the AALS Section on Disability Law. She was recognized by the Idaho Business Review as a 2019 Accomplished Under 40 honoree and was awarded the University of Idaho College of Law's 2019 Diversity and Human Rights Award.
Before joining the University of Idaho, she served as a teaching fellow at the LSU Hebert Law Center, where she taught Civil Rights Litigation, Disability Law, and Legal Research and Writing. Professor Macfarlane also worked as an Assistant Corporation Counsel in the New York City Law Department, where she was lead counsel in federal civil rights actions. As an associate at Quinn Emanuel, she represented plaintiffs in mortgage-backed securities litigation, and was lead counsel in a pro bono prisoner civil rights action. She clerked for the District of Arizona and the U.S. Court of Appeals for the Ninth Circuit.
Professor Macfarlane is admitted to practice in California and New York, as well as the Central District of California, the Eastern District of New York, the Southern District of New York, and the U.S. Court of Appeals for the Ninth Circuit.
Professor Macfarlane is a recognized disability rights advocate. She wrote about her experiences with disability and reasonable accommodations in law school and practice as a 2018 Writer in Residence for Ms. JD. She testified in support of a patient safety bill related to biosimilar medication at the Louisiana Legislature, and participated in a Congressional Arthritis Caucus briefing regarding biosimilars in Washington, D.C. as the panel's sole patient representative. Her healthcare and disability commentary has been featured in Ms., The Mighty, Creaky Joints, and BUST, as well as several literary journals.
Professor Macfarlane received her B.A., magna cum laude, from Northwestern University and her J.D., cum laude, from Loyola Law School, Los Angeles. She spent her childhood in Rome, Italy, and is fluent in Italian and Spanish.
She lives in Boise with her dog Cooper.