Gerard "HipHopGamer" Williams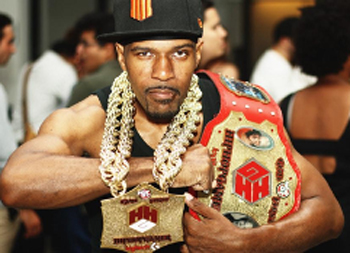 Gerard "HipHopGamer" Williams fell in love with video games at the early age of 4 years old. Abandoned by his mother in his tender years, Gerard found solace in music and in video games which were introduced to him by his grandmother Margaret Williams known as the Hip-Hop Granny. It was through their strong connection that Gerard first picked up his Atari game remote, which became a way to be entertained in the house and to avoid the brutal streets of Brooklyn where he grew up.
In his early teens, Gerard continued to develop his love for gaming, rap music and sports. He soon delved more heavily into the music world as a way to express himself. At the age of 14, his brother be-stowed the nickname "Jackal- Flarez," which was then shortened to "Jackal." The name fit Gerard as his electric energy combined with his rap style was described as flowing like a "wild dog." Soon after embarking on his musical voyage, Gerard received an offer for a major recording deal with MC Chan; but, the opportunity ended up falling apart. Never one to give-up, Gerard shifted his focus back to his first love, video-games and embarked on the next chapter in his legendary story. Several years later in December 2007, Gerard finally found the path that would help him leave his mark on the world. Combining his love for gaming, rap music and sports, he donned the moniker that he would be forever remembered as, the HipHopGamer (HHG). He created his first YouTube video modeled of existing television platforms but also sprinkled in his trademark authentic view that was missing from existing content. Building on this concept, Gerard continued to release content until E3 veteran and former owner of thebitbag.com, Torrence Davis invited him to attend E3 for his first time.
Though he never lost his love for music, pursuing that as a career would soon take the backseat to his goal of marrying his love for gaming and culture to develop the career that we know today. The HHG movement continued to grow as after an interview with TV host and DJ Peter Rosenberg of "Ebro in the Morning" on Hot97, as he was presented with the opportunity to become a gaming content contributor for New York's top hip-hop radio station, Hot 97Combing his love for gaming, sports and entertainment in a unique way, the HipHopGamer began curating and creating custom content for motion pictures such as Battleship and Ghost in The Shell as well as by interviewing celebrities such as Jerry Rice, Kevin Hart, Samuel L. Jackson, Scarlett Johansson, Jon Cena, Hugh Jackman, Zoe Saldana, Ryan Reynolds, Tyler Perry, RZA, Raekwon, Vivica A. Fox, Angela Basset and a host of other A-list celebrities and industry leaders.