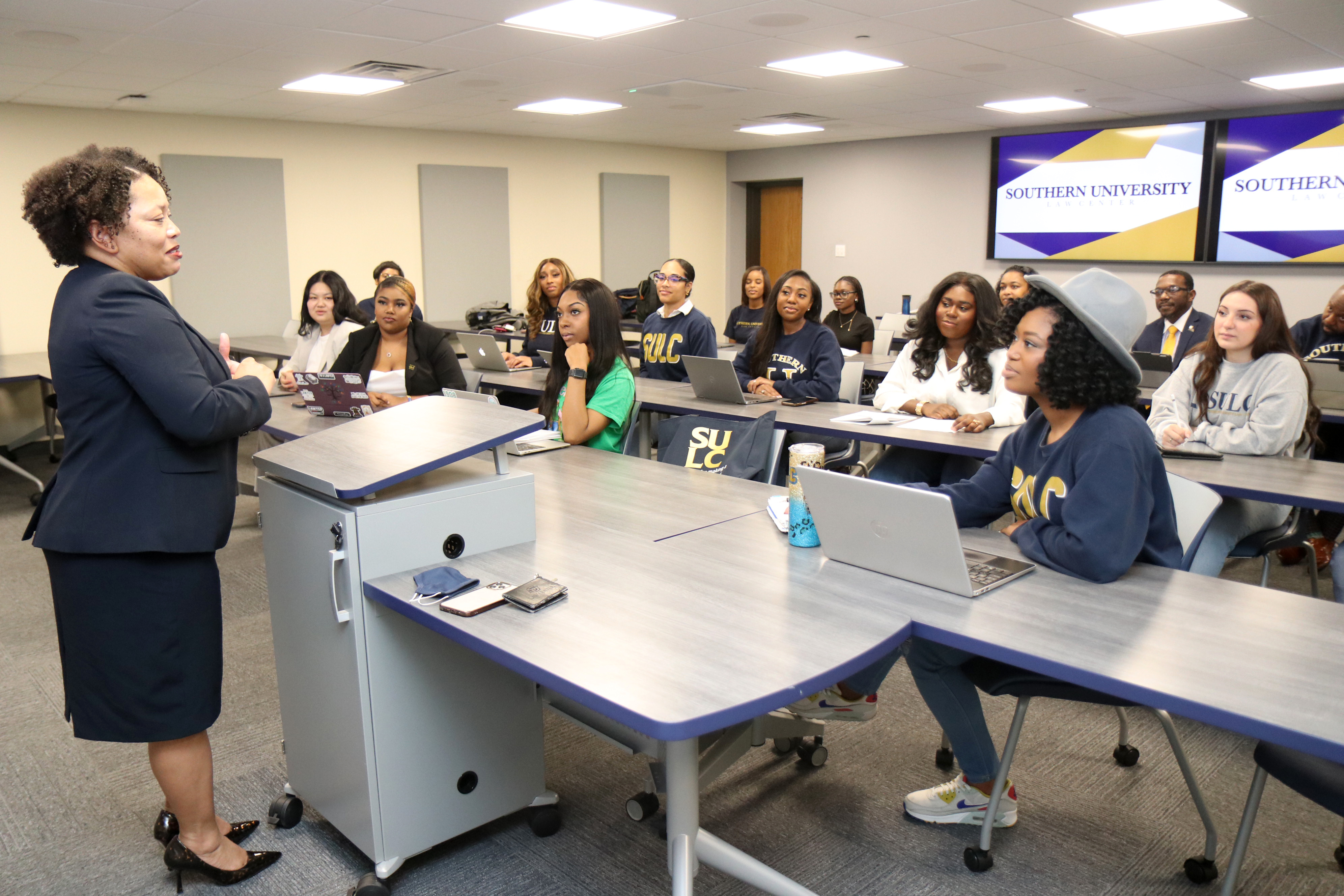 The Southern University Law Center ensures a supportive and engaging educational experience for every student. Our committed, caring professors invest in student success, offering personal attention and an open door policy. Come be a part of the next generation of lawyer-leaders. Apply today.
The Admissions Process
The Southern University Law Center takes a holistic approach to the admissions process, reviewing each candidate's credentials and background carefully. Factors such as the applicant's cumulative undergraduate grade point average, work experience or military service, past pursuits, social and economic background, extracurricular activities, and ability to analyze and write well are all taken into consideration.
Academic Requirements
Applicants must have earned a scholastic average of at least "C" in courses of substantive academic content, received an acceptable score on the Law School Admission Test (LSAT), and must have received a bachelor's degree from an accredited college or university. While the Law Center does not prescribe any specific pre-legal preparation, it strongly recommends a foundation consisting of such courses as English; Public Speaking; French or Spanish; Accounting; Psychology; Logic; Mathematics; and other analytical courses.
The objective of pre-legal training should be to provide the student with the necessary general education to compete success­fully in the professional study of law. The applicant should acquire a mastery of the English language. An applicant who has been excluded from another law center/school or who has not presented a satisfactory scholastic record may not be considered for admission.
Qualifications for Admission to the Bar
Importantly, applicants must have a good moral character. If there is any indication that an applicant lacks good moral character, the burden is upon the applicant to prove through clear and convincing evidence that he or she possesses the requisite good moral character to be considered for admission. The Law Center reserves the right to deny admission to any applicant who does not fulfill this requirement.
In addition to a bar examination, there are character, fitness, and other qualifications for admission to the bar in every U.S. jurisdiction. Applicants are encouraged to determine the requirements for any jurisdiction in which they intend to seek admission by contacting the jurisdiction. Addresses for all relevant agencies are available through the National Conference of Bar Examiners.
Admission with Advanced Standing
A student who has successfully completed work at an ABA-accredited law school and who otherwise meets the requirements for admission to the first year class at SULC may be admitted to SULC with advanced standing.
A student seeking advanced standing must apply for admissions to SULC using the normal admissions process, including the Candidate Assembly Service. In addition, a transferring student must submit an official transcript from the student's law school, a letter of good standing from the dean of the school, a letter from a professor of the law school from which he/she is transferring, and copies of the catalog course descriptions and syllabi for all courses for which the applying student is requesting credit. Southern University Law Center reserves the right to refuse credits, in whole or in part, or to withdraw credit for prior work. A maximum of 30 credit hours completed at another law school may be accepted for credit at SULC. Students who have been excluded from other law schools because of scholastic deficiencies will not be admitted with advanced standing.
Visiting Students
Visiting students are accepted for summer, fall and spring. Applications are required as well as a letter of good standing from the dean certifying approval to visit and the number of credits transferable.