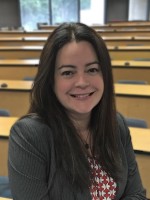 Associate Professor of Law
The Kendall Vick Foundation Endowed Professorship

Fax: (225) 771-5913
Professor Willmai Rivera-Pérez is an Associate Professor of Law at Southern University Law Center, Louisiana. Prior to joining the faculty at SULC, Professor Rivera-Pérez was an associate in Marchand Quintero Law Office legal firm in San Juan, P.R. specializing in the areas of First Amendment rights of the press and the media. She also clerked for Associate Justice Antonio S. Negrón García at the Puerto Rico Supreme Court.
Her areas of research interest include: comparative law, constitutional law, Latino/a Critical Theory, transitional justice, international law, human rights law, sociology of law and mixed legal jurisdictions.
Prof. Rivera-Pérez earned her B.A. in Political Sciences and Juris Doctor from the University of Puerto Rico in Río Piedras. In 2006 she earned her LL.M. degree from the University of California, Berkeley School of Law (Boalt Hall). She is a Doctor of Juridical Science, degree awarded by the University of California, Los Angeles School of Law. Her doctoral dissertation explores the role that the international human rights discourse has had in the adoption and development of the direct application of constitutional norms to relations arising from disputes between private parties in Latin America.
Courses: Constitutional Law, Federal Jurisdiction, Federal Civil Procedure, Successions and Donations