Southern University Law Center to host 2023 Esports Summit, March 16-17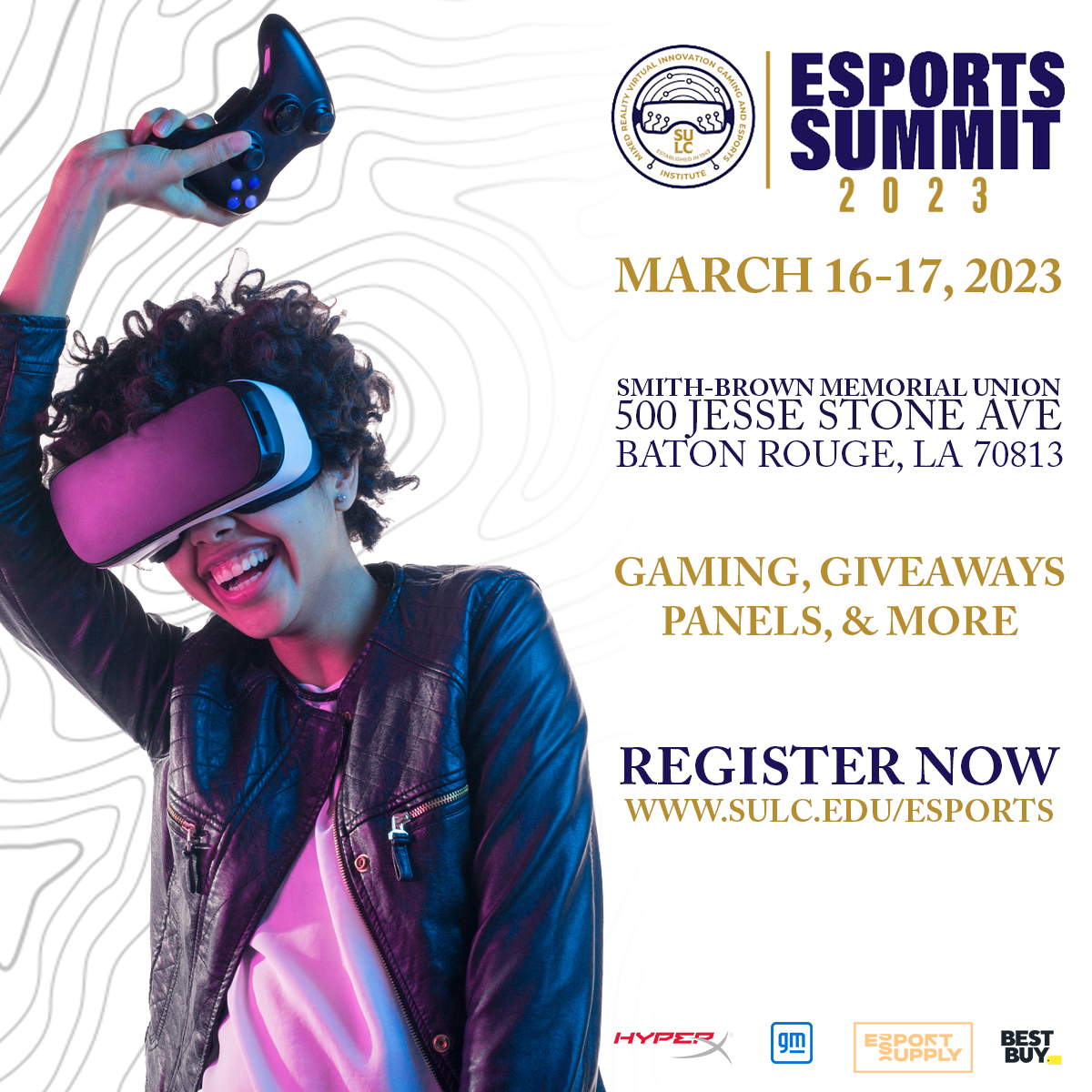 Esports has grown exponentially in recent years and is making its mark within the education arena. In an effort to educate the community about the opportunities and programs within the esports arena, the Southern University Law Center's (SULC) Mixed Reality Virtual Innovation Gaming and Esports Institute will host its second annual Esports Summit scheduled for March 16-17 at the Smith-Brown Memorial Union on the campus of Southern University, located at 500 Jesse Stone Ave. in Baton Rouge, LA.
"Hosting an Esports Summit at Southern University Law Center is a great way to show the community, students, and professionals that the SULC is a leader in promoting creativity and innovation," said Chris Turner, coordinator of the Mixed Reality Virtual Innovation Gaming and Esports Institute at Southern University Law Center. "This summit offers everyone the chance to learn and exchange ideas about the latest trends and developments in esports, as well as gain valuable knowledge about career pathways related to the industry."
During the summit, participants will hear from many innovative and progressive leaders within the esports industry. Speakers include Jeffery Harrison, director of networks and operations at East Baton Rouge Parish School System; Bradford Harris, education strategist at PubSec; Ryan Morrison, chief executive officer of Evolved Talent and founding partner of Morrison Rothman LLP; and Adrieanne Moliere, FACS teacher/esports coordinator at University View Academy, and more. This event is sponsored by HyperX, General Motors, Esport Supply, and Best Buy.
"The Law Center is ensuring that the state of Louisiana has access to the resources they need to stay ahead and make a positive impact in the world of mixed reality, virtual innovation, gaming, and esports," said Turner.
The two-day summit will include keynote sessions and panel discussions on topics such as Esports Careers and Pathways, Law within the Esports and Gaming Industry, Esports Clubs and Programs in Virtual Schools, Music within Gaming and Esports and more. On Thursday, collegiate teams, including Southern University, Boise State, and others will compete in a showcase.
On March 10, SULC's Mixed Reality Virtual Innovation Gaming and Esports Institute will launch its Esports Innovation Lab which seeks to develop pathways to the entertainment, gaming, and esports arenas. The lab will serve not only the Southern University landmass but surrounding communities within the institution's network.
The event is free and open to the public. Registration fees begin at $45 for students and $100 for professionals. Participants can register at www.sulc.edu/esports.
For more information, contact Jasmine D. Hunter, director of external affairs and communications, at jhunter@sulc.edu.
RSS News Feed