Institute for Civil Rights and Justice To Host Criminal Justice Reform Seminars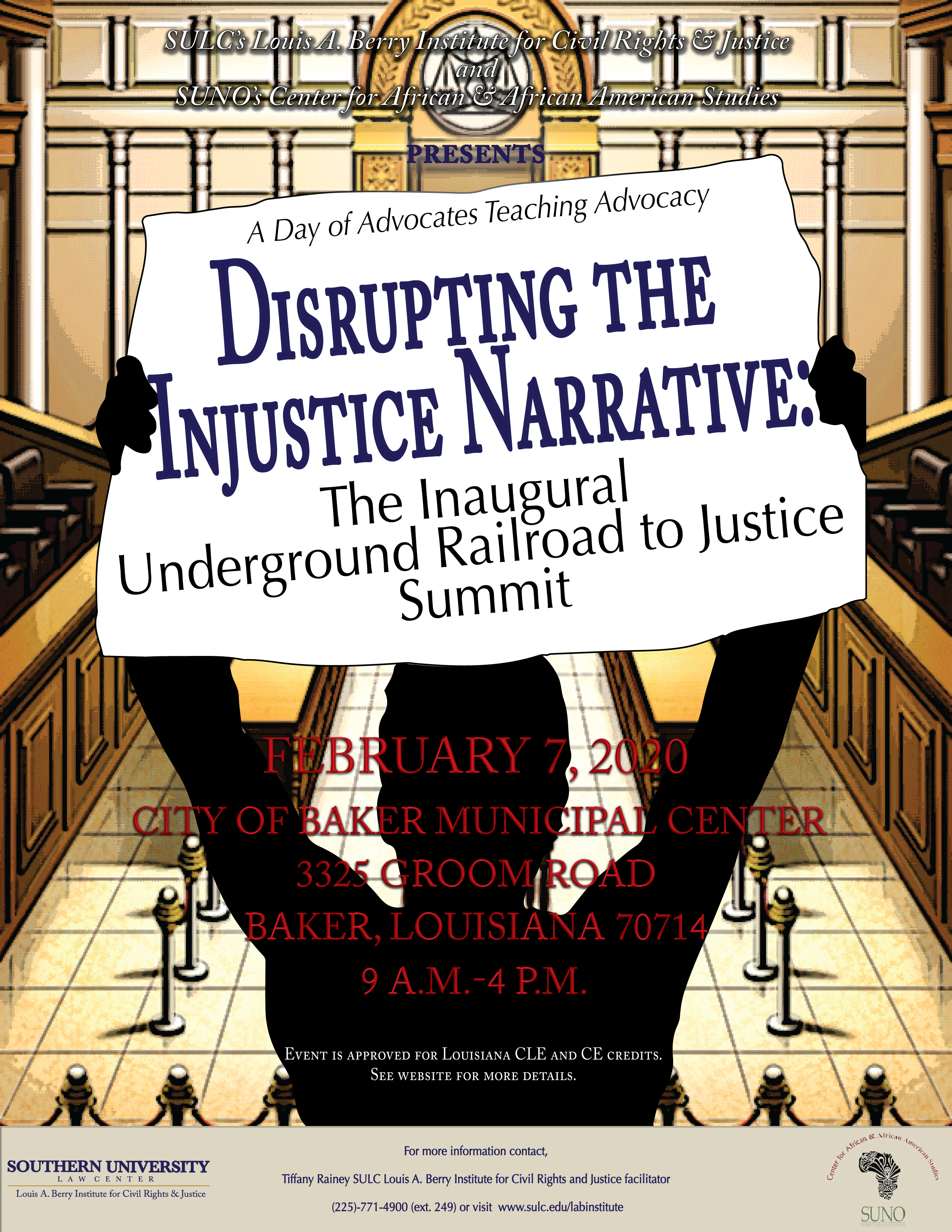 The Louis A. Berry Institute for Civil Rights and Justice at the Southern University Law Center and the Center for African and African American Studies (CAAAS) at Southern University at New Orleans have partnered to host an advocacy seminar entitled "Disrupting the Injustice Narrative: The Inaugural Underground Railroad to Justice Summit" on Friday, February 7 at the Law Center from 9 a.m. to 4 p.m.
"Slavery was our first mass incarceration system. Currently, the American criminal justice system holds approximately 2.3 million people in prisons, jails & detention facilities," said Angela Allen-Bell, director of the Louis A. Berry Institute for Civil Rights and Justice. "As long as mass numbers of people lack liberty and social and political equality, organizations with a commitment to civil and human rights must be committed to disrupting such a narrative."
Panel discussions include becoming a justice watchdog, getting the ear of the media, using art to advocate, and more. Katie Swartzmann, American Civil Liberties Union; Checo Yancy, Voters Organized to Educate (VOTE); Jee Parks, Innocence Project of New Orleans and more will serve as speakers.
"These events symbolize our attempt to call the surrounding community to educational, civic, cultural and social action," says Clyde C. Robertson, director of CAAAS.
This seminar is a component of a two-part criminal justice reform series hosted by both organizations. Allen-Bell will be giving a presentation entitled "When Law & Injustice Become Bedfellows: Justice Becomes the Business of the People" during SUNO's Charles Frye Memorial Lecture Series symposium on Monday, February 3 from 11 a.m.- 2 p.m. at the Millie M. Charles School of Social Work Auditorium.
Legal professionals and social workers will receive 5.5 and 6 continuing education credit hours, respectively, during Friday's symposium.
The seminar is free and open to the public.
For more information and to register, contact Tiffany Rainey, Institute facilitator, at trainey@sulc.edu or visitwww.sulc.edu/labinstitute.
RSS News Feed