The Moot Court Board, composed of second- and third-year students, is responsible for planning and conducting the annual intra-school Moot Court Competition held each year in the spring semester at the Law Center.
Only competitors who fall within the 50th percentile of the highest combined scores for oral arguments and brief writing with a cumulative GPA of 2.8 or better will be eligible for an invitation for membership on the Moot Court Board. The Board also sends members to two inter-school competitions over the course of the school year.
Participation in the Moot Court program enables students to put into practice the theories they have studied in class and to experience an appellate argument under conditions similar to those in an actual court.
The Board also participates in community service projects, social events, and field trips!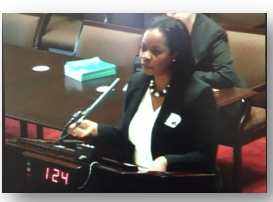 Charletta Anderson-Fortson presenting the rebuttal at the Louisiana Supreme Court as a Rule XX Student Attorney.