Millionaire William Pickard Visits Law Center, Speaks to Students on Strategic Principles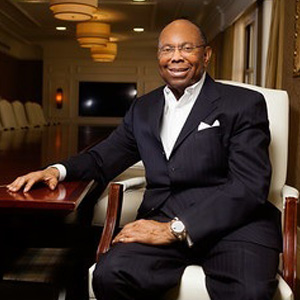 In a casual fashion, business mogul William Pickard stopped by the Southern University Law Center to speak to our first-year students during a break in their schedule. He shared some of his principles from his book Millionaire Moves: Seven Proven Principles of Entrepreneurship.
The Detroit-based entrepreneur and author shared his background and focused on three principles, relationships, talent and failure. "Hustle will be talent when talent doesn't hustle," Pickard said. He explained his quote during a brief Q&A session with a student, saying that basically talent can only get you so far.
Pickard started his interaction by advising students that they need to know how to make money in their sleep. "I know that lawyers are very creative," he said, "Law integrates every facet of our lives." Pickard started his career as a social worker, then an owner of McDonalds franchise and eventually the founder of an automotive manufacturing firm, among a number of other businesses.
Students were able to share in this intimate experience and ask Pickard questions towards the end of the interaction. The Law Center is grateful to be able to expose our students to a variety of opportunities to learn and network.
RSS News Feed