SULC Tech Clinic to host Louisiana's Inaugural Intellectual Property Summit in New Orleans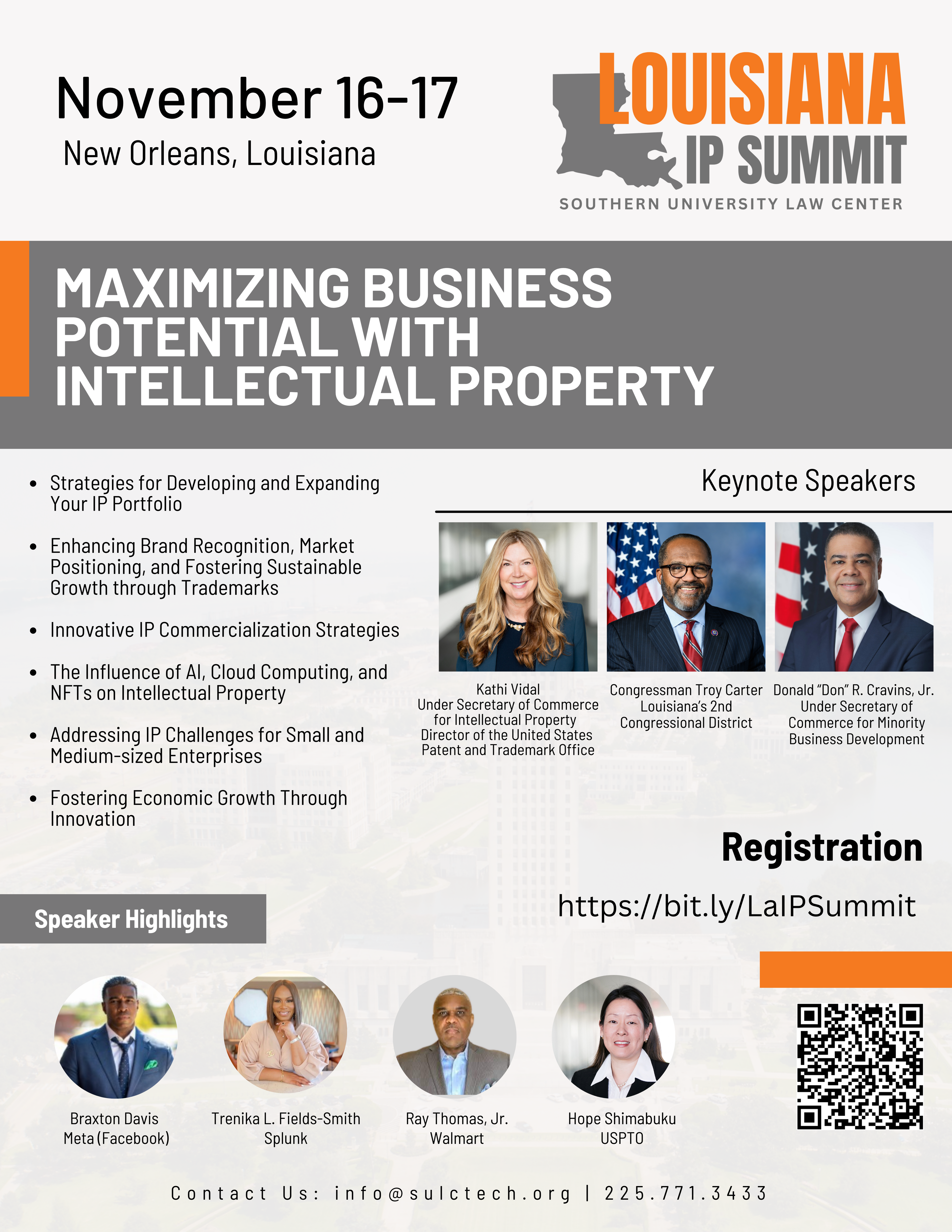 In an effort to empower businesses with knowledge and strategies to protect, optimize, and monetize their intellectual property assets, the Southern University Law Center's Technology and Entrepreneurship Clinic will host Louisiana's inaugural Intellectual Property Summit on November 16-17 at the Hyatt Regency Hotel located at 601 Loyola Ave in New Orleans, LA 70113.
"We believe that Louisiana is more than capable of being a leader in innovation, technology, and sustainability," said Marina Biragova, executive director of the SULC Technology and Entrepreneurship Clinic. "The Louisiana IP Summit serves as a platform to link our state with the broader network, securing our rightful seat at the table."
This event is designed to create a platform that amplifies Louisiana's potential as a thriving hub for innovation and to ensure that all segments of society can benefit from this growth. Through inclusive innovation, this summit aims to bring together diverse perspectives and ideas, empowering individuals from various backgrounds to contribute and participate actively in the state's economic progress.
The two-day summit will cover a wide range of crucial topics, from protecting brand identities to securing technology and business processes. It will bring together federal and state officials, industry leaders, and economic development experts to strengthen Louisiana's innovative potential and intellectual property landscape.
The Summit's agenda will explore the strategies for developing and expanding your IP portfolio, innovative IP commercialization strategies, addressing IP challenges for small and medium-sized enterprises, and much more. This inaugural event will offer a unique opportunity to engage with key figures from our nation's intellectual property agencies and assess the resources required to further enhance Louisiana's IP and Innovation ecosystem.
Featured speakers at the event include Kathi Vidal, Under Secretary of Commerce for Intellectual Property and United States Patent Trademark Office Director; Donald Cravins, Under Secretary of Commerce for Minority Business Development; Congressman Troy Carter, United States House of Representatives member from Louisiana's 2nd Congressional District; Dennis Shields, president of the Southern University System, and more.
"Through the Summit, we aim to empower businesses, regardless of their size, to unlock the true value of their IP assets and to master the art of successful commercialization," said Biragova. "The potential for innovation in Louisiana is limitless, and we are firmly committed to unveiling the untapped opportunities within our State."
The event is free and open to the public. Participants can register or get more information by visiting https://bit.ly/LaIPSummit. For more information, contact Jasmine D. Hunter, director of external affairs, at jhunter@sulc.edu and 225-421-9742.
RSS News Feed