Southern University Law Center and ACES School host annual Native American economic development conference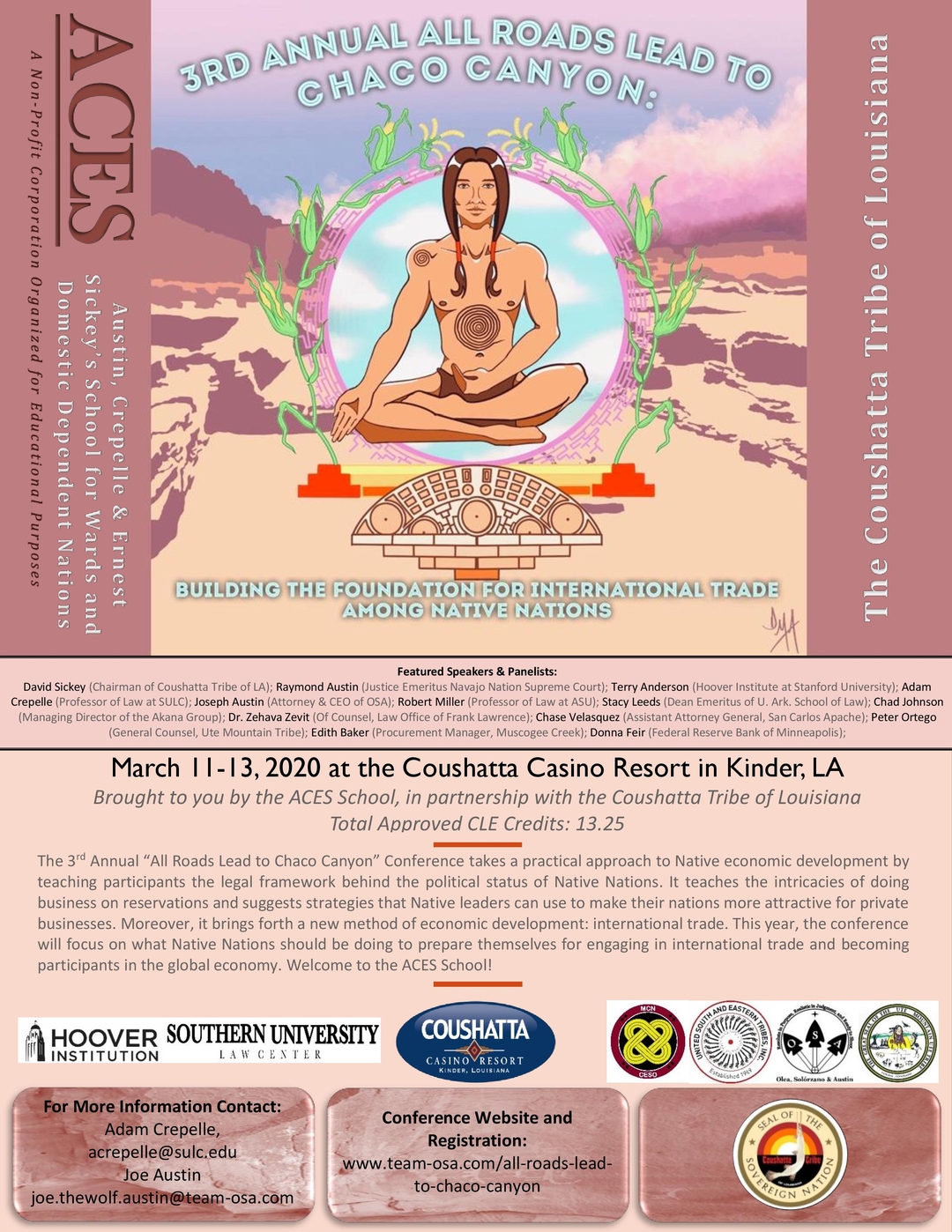 The Southern University Law Center, in conjunction with Austin, Crepelle, and Ernest Sickey's School for Wards and Domestic Dependent Nations (ACES School), and the Coushatta Tribe of Louisiana, will host the third annual "All Roads Lead to Chaco Canyon" (ARLTCC) conference taking place on March 11-13, 2020 at the Coushatta Casino Resort in Kinder, Louisiana. This year, the conference will focus on what Native Nations should be doing to prepare themselves for engaging in international trade and becoming participants in the global economy.
"The whole purpose behind this conference is to shift the power dynamic between Native Nations and the nations of the world," Joe Austin, founder and chief executive officer of the ACES School and ARLTCC, and Adam Crepelle, founder of the ACES School, ARLTCC, and associate professor of law at the Southern University Law Center. "They have said for decades people have focused on protecting indigenous people. While they may still need protecting in various ways, we contend that the Native Nations in the United States are in an age of empowerment."
The ACES School is a non-profit dedicated to educating anyone and everyone on the issues affecting Indian Country. The three-day conference takes a practical approach to Native economic development by teaching participants the legal framework behind the political status of Native Nations. It teaches the intricacies of doing business on reservations and suggests strategies that Native leaders can use to make their nations more attractive for private businesses. Moreover, it brings forth a new method of economic development: international trade.
Featured panelists include: David Sickey (Chairman of Coushatta Tribe of LA); Raymond Austin (Justice Emeritus Navajo Nation Supreme Court); Terry Anderson (Hoover Institute at Stanford University); Adam Crepelle (Professor of Law at SULC); Joseph Austin (Attorney & CEO of OSA); Robert Miller (Professor of Law at ASU); Stacy Leeds (Dean Emeritus of U. Ark. School of Law); Chad Johnson (Managing Director of the Akana Group); Dr. Zehava Zevit ( Counsel, Law Office of Frank Lawrence); Chase Velasquez (Assistant Attorney General, San Carlos Apache); Peter Ortego (General Counsel, Ute Mountain Tribe); Edith Baker (Procurement Manager, Muscogee Creek); Donna Feir (Federal Reserve Bank of Minneapolis).
Early-bird registration starts at $250 and extends until February 17th. Registration includes admission into all three days of the conference and meals. Legal professionals can earn 13.25 continuing legal education credits, including ethics and professionalism. Conference attendees can also take advantage of reduced room rates at the Seven Clans Hotel and the Grand Hotel. For more information, visit the conference website: https://www.team-osa.com/all-roads-lead-to-chaco-canyon.
RSS News Feed