Southern University Law Center hosts social justice conversation with award-winning attorney, author Brittany Barnett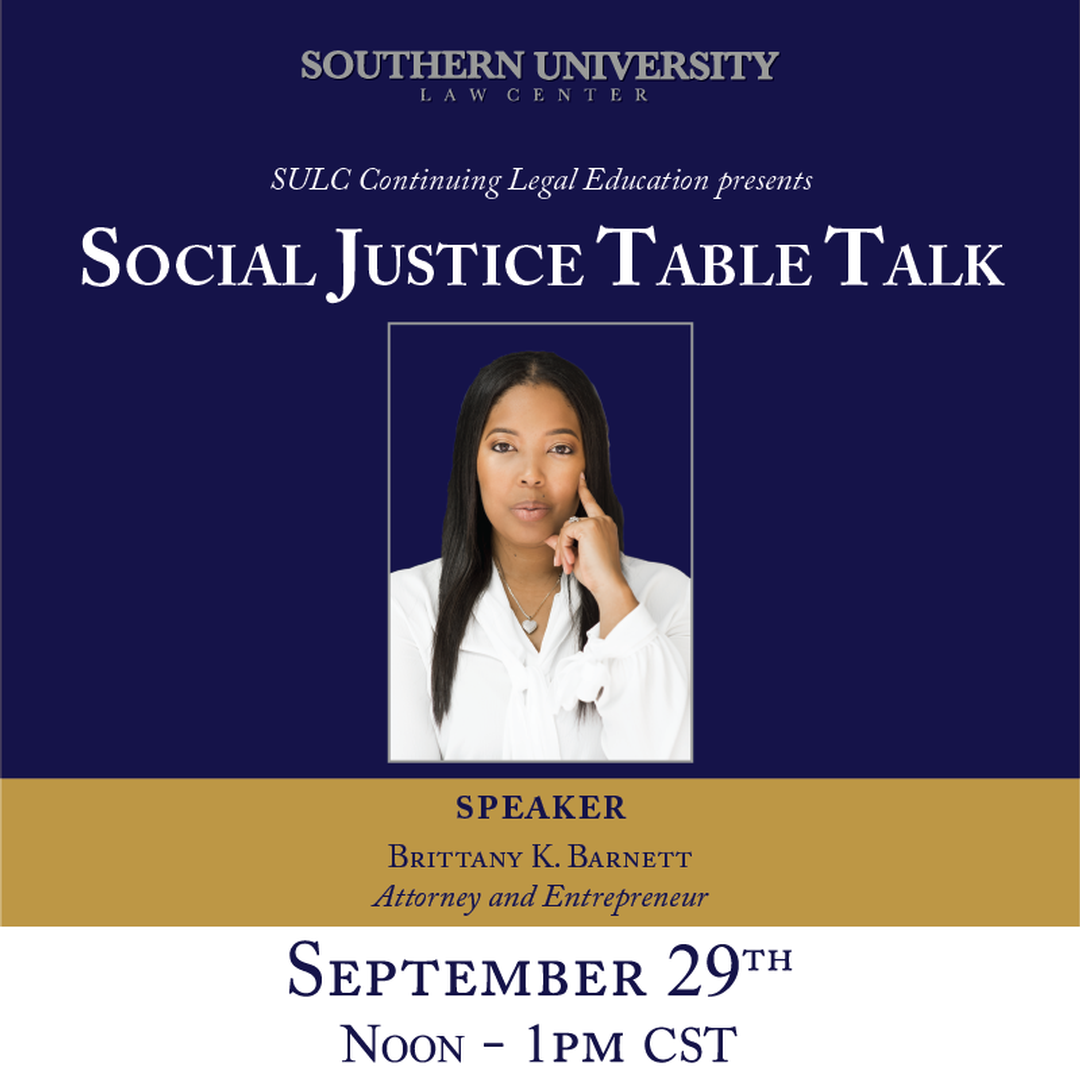 In the climate of social justice and reform, it's important to create a space to openly discuss issues that affect our communities. On Tuesday, September 29 at noon, the Southern University Law Center is hosting a Social Justice Table Talk featuring attorney and author Brittany K. Barnett.
"It is important for our students and community at large to understand what social justice looks like, how we can be involved in the process, and to see the impacts of social justice reform in play", said Marla Dickerson, director of continuing legal education at Southern University Law Center.
This timely conversation will focus on the justice and fight for freedom that speaks to the core of the justice system.
Barnett is an award-winning attorney and entrepreneur focused on social impact investing. She is dedicated to transforming the criminal justice system and has won freedom for numerous clients serving life sentences for federal drug offenses—seven of whom received executive clemency from President Barack Obama. Barnett has founded several nonprofits and social enterprises, such as the Buried Alive Project, Girls Embracing Mothers, XVI Capital Partners, and Milena Reign LLC. She has earned many honors, including being named one of America's most Outstanding Young Lawyers by the American Bar Association.
Barnett, the daughter of a formerly incarcerated mother and the once-girlfriend of an abusive drug dealer, has felt the far-reaching effects of mass incarceration firsthand. As a result, she penned her experience in her recent book, "A Knock at Midnight", a memoir described as an urgent call to free those buried alive by America's legal system, andan inspiring true story about unwavering belief in humanity. The book was nationally praised by Newsweek, USA Today, Library Journal and Publishers Weekly.
"The story that is told by Brittany K. Barnett is an awesome and riveting tale of hope, freedom, and perseverance regarding the social justice movement," said Dickerson. "It is important for the Law Center to continue engage in social justice measures and to tell these stories because social justice lies at the foundation of the Law Center."
This free event will be held virtually using Zoom. Registration is open to students and the public. Secure your spot for the conversation at sulc.edu/tabletalk.
For more information, contact Marla Dickerson at mdickerson@sulc.edu.
RSS News Feed