Southern University Law Center announces partnership with HP Life, HP Inc.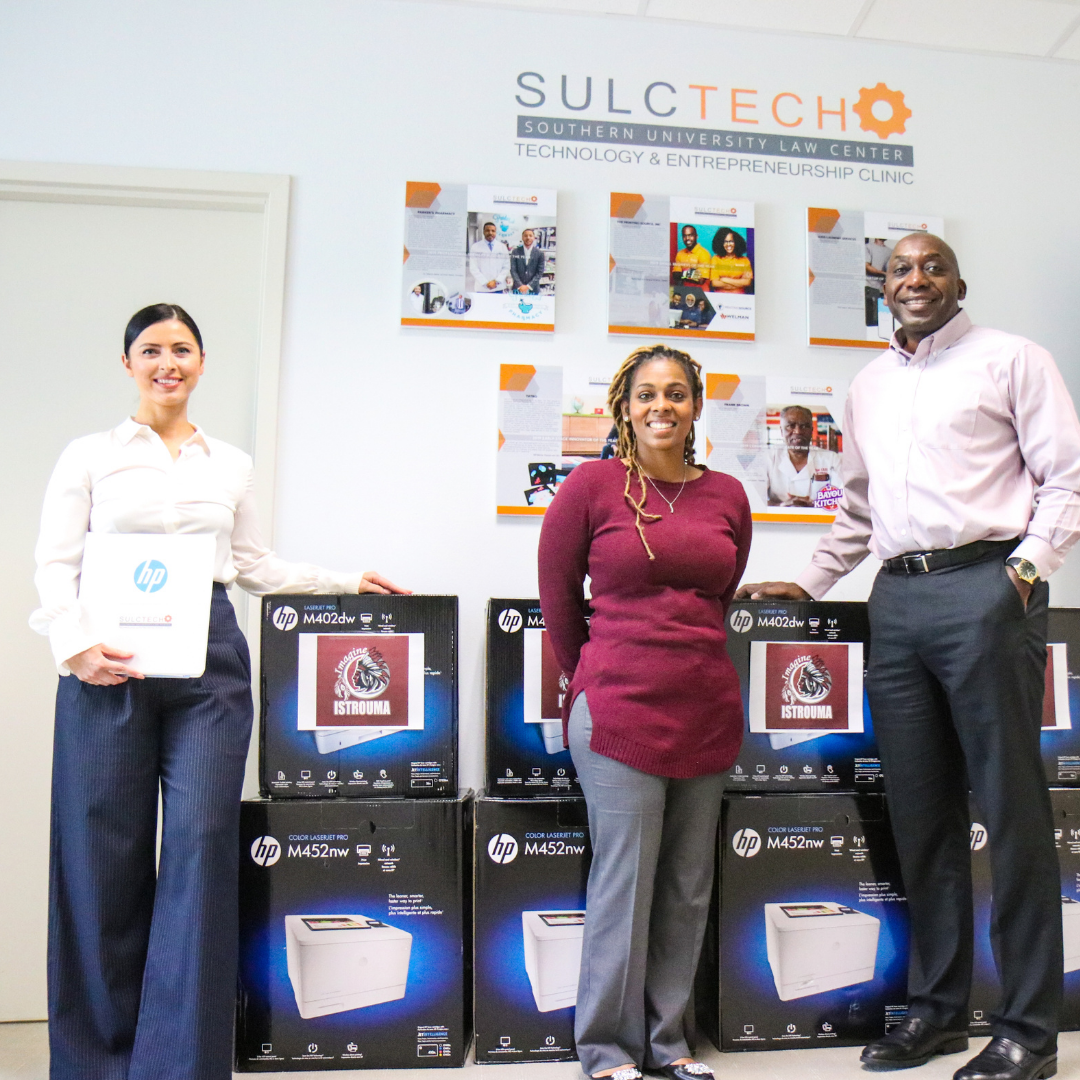 Caption: Marina Biragova, clinic executive director, distributes printers to Istrouma Magnet High School principal and magnet site coordinator, Michael Bester, and Cynthia Weber, respectively, through our HP Inc. initiative.
The Southern University Law Center's Technology and Entrepreneurship Clinic is pleased to announce the resource partnership with HP LIFE, a free program of the HP Foundation. The objective of this partnership is to support education, social entrepreneurship, business development, and innovation.
"Experience shows when we work together, we make the most impact," said Michele Malejki, global head, social impact at HP. "That's why HP and the HP Foundation are excited to support the SULC Tech Clinic's important work by providing their students, and the entrepreneurs they assist, with resources and technology that will help them develop the skills they need for a successful future."
Through this initiative, HP LIFE offers 32 free modules and training webinars for SULC Tech clients, students, and partners. In addition, HP Inc. has donated nearly 200 HP printers to qualified SULC Tech Clinic participants. Parker's Pharmacy, Istrouma Magnet High School, The Maxine Firm, and Gamblé Entertainment are a few clients that have received printers to aid in their business operations.
"As we continue to elevate the next generation of students and entrepreneurs, the SULC Tech Clinic welcomes partnerships and collaborations that further help to enhance our programs and initiatives," said Marina Biragova, executive director of the Technology and Entrepreneurship Clinic. "The support we have received from HP LIFE and HP Inc. exemplifies the importance of corporate action and educational partnerships that make a true difference."
For more information on this partnership and the clinic, contact Marina Biragova at
mbiragova@sulc.edu
.
RSS News Feed