Southern University Law Center, partners host conversation surrounding maternal mortality during Black Maternal Health Week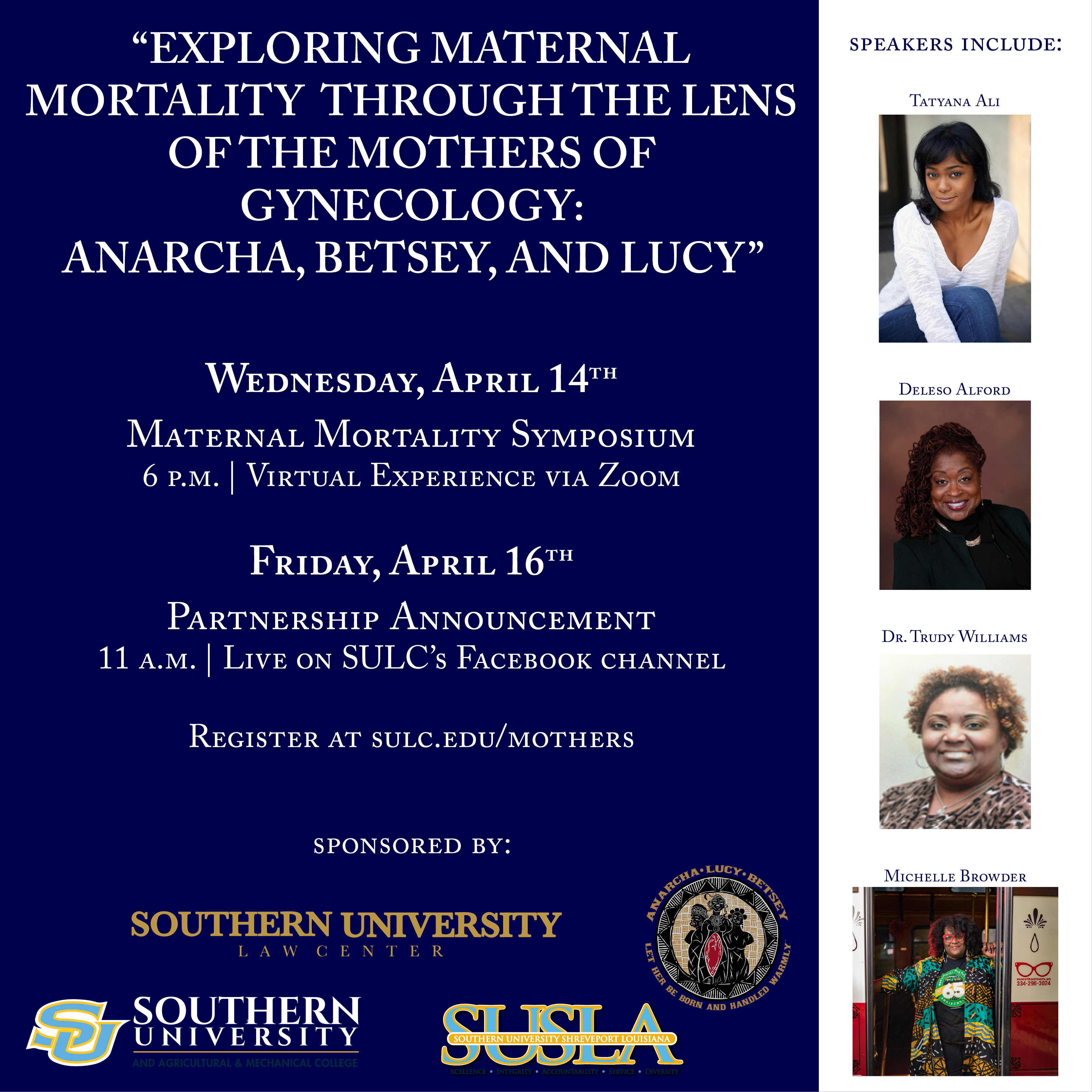 During April, the United States celebrates National Minority Health Month. Within this observation, the Black Mamas Matter Alliance is sponsoring the Black Maternal Health Week which will take place April 11-17. The Southern University Law Center, in partnership with the Southern University Baton Rouge School of Nursing, the Southern University Shreveport School of Nursing and the More Up Campaign, are hosting a maternal mortality symposium taking place on Wednesday, April 14 at 6 p.m. CST via Zoom to provide a safe space to discuss maternal mortality and recognize the tribulation that the Mothers of Gynecology: Anarcha, Betsey, and Lucy endured.
"It is imperative that we create a dialogue discussing our beloved Mothers of Gynecology: Anarcha, Betsey, and Lucy because of the significant role they have played in the modern practice of gynecology," said Deleso Alford, professor of law at Southern University Law Center and event coordinator. "Beyond weaving these 'HER- storical' figures into our medical and legal curriculums, we must explore the perspectives and policies to support why this context matters in pursuit of protecting Black mothers."
The overall theme of the event is designed to explore maternal mortality through the lens of the mothers of gynecology: Anarcha, Betsey, and Lucy. The panel will discuss racial healthcare disparities as a contributing factor to present day maternal mortality rates amongst black women. Attendees will become familiar with the development of gynecology as a specialty in the United States and the significance of revering the mothers of gynecology. Panelists include Deleso Alford, professor of law at the Southern University Law Center; Michelle Browder, executive and artistic director of The More Up Campaign, and Trudy Williams, interim chair of the Undergraduate Nursing Program at Southern University Baton Rouge. Tatyana Ali, actress and mother, will serve as the panel moderator.
The symposium is free and open to the public. Register at www.sulc.edu/mothers.
For more information, please contact Jasmine D. Hunter, director of external affairs and communications, at 225-421-9742 and jhunter@sulc.edu.
RSS News Feed