Southern University Law Center launches Esports Innovation Lab with official ribbon cutting on March 10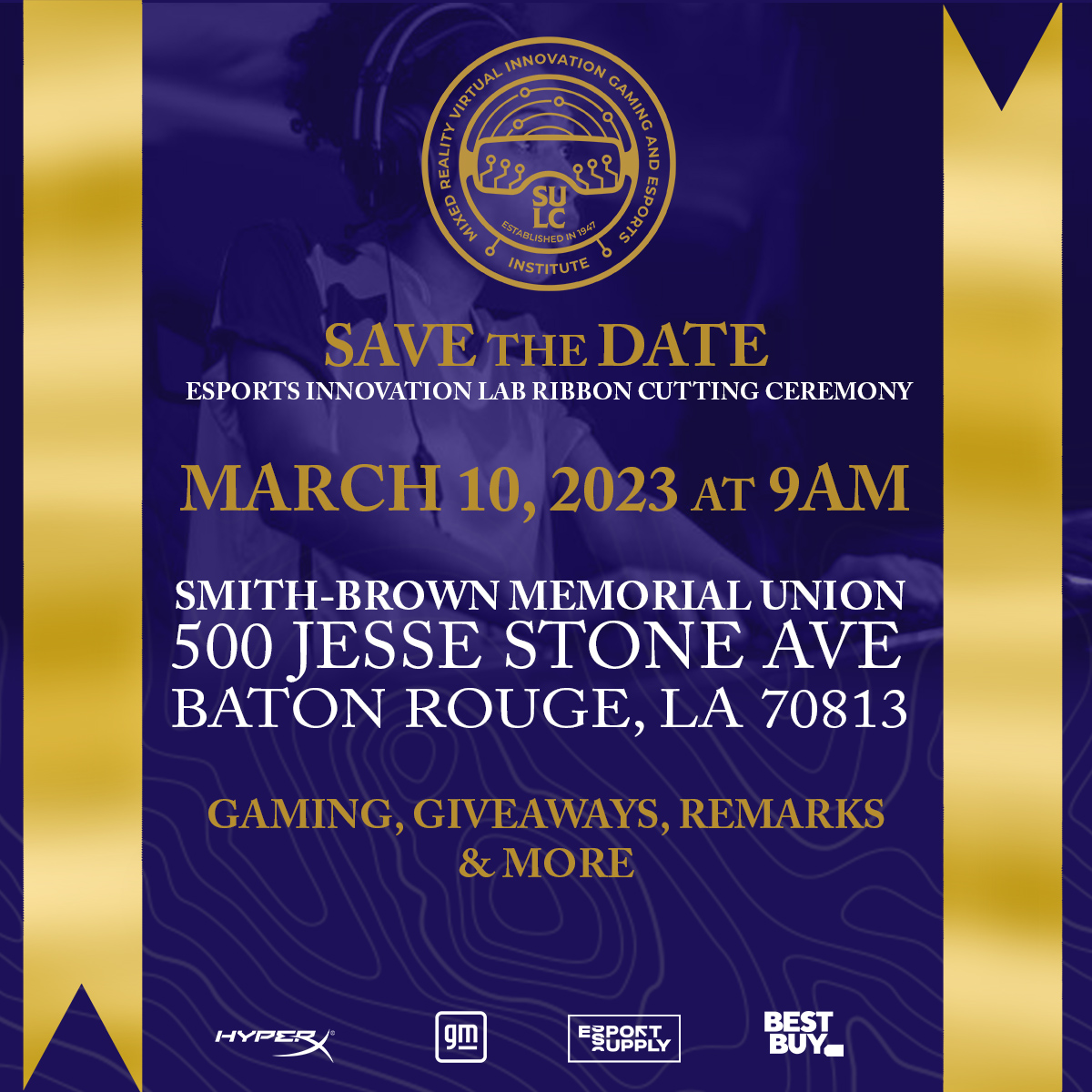 Over the last five years, esports and virtual gaming have intertwined themselves within the framework of the education realm. From the creation of teams to high functioning and technology savvy game labs, this rising sport is bridging together leadership, branding, and valuable career building skills. As an effort to afford this opportunity to its students and community network, the Southern University Law Center will official launch its Esports Innovation Lab with a ribbon cutting ceremony on Friday, March 10 at 9 a.m. at the Smith-Brown Student Union located on the campus of Southern University A&M College.
"The world Esports industry is on track to reach five billion by the year 2029," said Chris Turner, coordinator of the Mixed Reality Virtual Innovation Gaming and Esports Institute at Southern University Law Center. "The higher education institutions are looking to create labs, arenas, and esports programs. Most college students today are gamers with ninety-two percent playing regularly. With more colleges looking at recruitment and retention, we want to ensure that we are offering programming and curriculum to fit these needs. As far as historically black colleges and universities (HBCUs), only two percent of the gaming industry are African Americans. Therefore, we want to continue to mold and train our students to create profitable and sustainable opportunities for themselves."
The creation of the lab was forged through collaborations with industry leaders, HyperX, Best Buy, GM, and Esport Supply. Each organization contributed state-of-the-art technology and equipment that will allow students and teams to practice and compete on a national and international level.
The goal for the Esports Innovation Lab is to be a hub of creativity that seeks to develop pathways to the entertainment, gaming, and esports arenas. The lab will serve not only the Southern University landmass but surrounding communities within our network.
"John Pierre, chancellor of the Southern University Law Center, often uses the term "communiversity" which is when the community and university come together to share, learn, and experience new things," said Turner. "We are so excited to utilize the room to its fullest capabilities. Of course, the overarching uses will include which will include esports competition, production, programming and marketing. However, we want this lab to be an inspiration and valuable resource; therefore, we will be offering Discovery Days with K-12 schools, universities, professional development for teachers, administration, and working professionals."
The ribbon cutting ceremony will be free and open to the public. For more information, contact Jasmine D. Hunter, director of external affairs and communications, at jhunter@sulc.edu.
RSS News Feed