Truth-telling and lived experiences were at the center of the inaugural Henrietta Lacks Symposium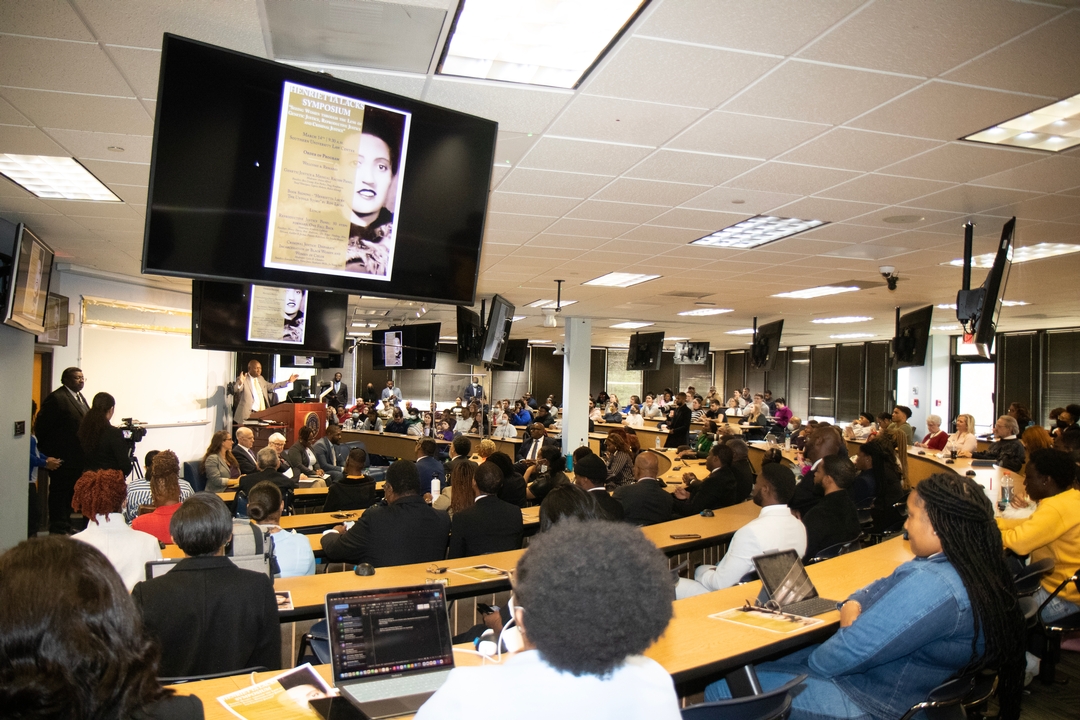 The Southern University Law Center (SULC) held its inaugural Henrietta Lacks Symposium: "Seeing Women Through the Lens of Genetic Justice, Reproductive Justice, and Criminal Justice" on March 14, bringing light and truth to Henrietta and the medical racism committed by John Hopkins University Hospital in 1951.
The symposium in the Law Center opened with the "Genetic Justice & Medical Racism Panel" featuring Civil Rights Attorney Ben Crump and fellow panelists Kim Parker, Doug Rendleman, Yusuf Henriques, Caprice Roberts, and Robert Klonoff. SULC professor Deleso Alford moderated the discussion. During the presentations, both Co-lead Counsel Ben Crump and Co-Counsel Robert Klonoff for the Lacks family's current litigation, Estate of Henrietta Lacks v. Thermo Fisher Scientific Inc. (US. Dist. MD) noted that Alford's 2012 law review article, "HeLa Cells and Unjust Enrichment in the Human Body" published in the Annals of Health Law played a major role in the genesis and framing of the lawsuit. She also wrote an amicus brief in the above-referenced case.
"We're trying to bring a landmark case before the world to acknowledge not just the dignity that Henrietta Lacks was never afforded in 1951 when John Hopkins University engaged in medical racism, but we are here to acknowledge also the respect that they didn't give her in 1951 when they butchered her like a Guinea pig and stole her cells," said Crump to the room of law students, faculty, attorneys, and judges. "But we are also, most importantly, establishing this symposium at the great Southern University Law Center to acknowledge the humanity of Henrietta Lacks."
Acknowledging the special guests in attendance, Crump said it made his heart full to see Henrietta's family in the room. Henrietta's eldest son, Lawrence Lacks, his son, Ron Lacks, and several other family members were present. Ron wrote "Henrietta Lacks: The Untold Story" to dispel the propaganda portrayed about his grandmother for so many years. Following the luncheon, Ron signed copies of the book for attendees.
"She was not an illiterate black woman," said Crump. "They tried to write her off to justify the theft and crime of stealing her cells."
"She is bigger than Oprah or Rebecca Skloot," said Ron. "She changed the medical field for all humans; white, black, everybody benefited from that. The way they portrayed her was uncalled for."
"When we think about the irony that she gave the world and the fact that he (Lawrence) and his siblings were never able to afford quality health care, it tells you why we have to have this symposium and why this symposium is going to continue to grow every year," said Crump. "We always talk about how people change the course of history. No, Henrietta Lacks really did change the course of history."
The panel continued with each speaker sharing their part in fighting to bring social justice to the family and get them what they deserved after several corporations made billions of dollars from Henrietta's cell.
"If you are living in the world and have any vaccine for COVID, polio, cancer treatment. Every time you get a shot, it is arguable, scientific sufficient you have a little Henrietta in you," said Crump.
The Southern University Law Center will continue to tell the story of Henrietta Lacks and bring awareness to medical racism, reproductive rights, and the law related to Black women.
Following lunch, two panel discussions followed in the afternoon. "Reproduction Justice Panel: 50 Steps Forward, One Fall Back" moderated by SULC professor Kimberly LaMotte and included panelists Nancy Davis, Bree Anderson, Dr. Edgar Feinberg, Alma Stewart, Kaitlyn B. Joshua, Frankie Robertson, and Dr. Sandra Brown. Attendees heard
The panel discussion titled "Criminal Justice: Disparate Incarceration of Black Women and Women of Color" closed the day. SULC adjunct professor and alumna, Leslie R. Chambers, moderated the conversation and featured panelists Latoyia Porter, Victor Jones, Stephanie Willis, and Jee Young Park.
RSS News Feed