Southern University Law Center explores the future of protesting in America through upcoming symposium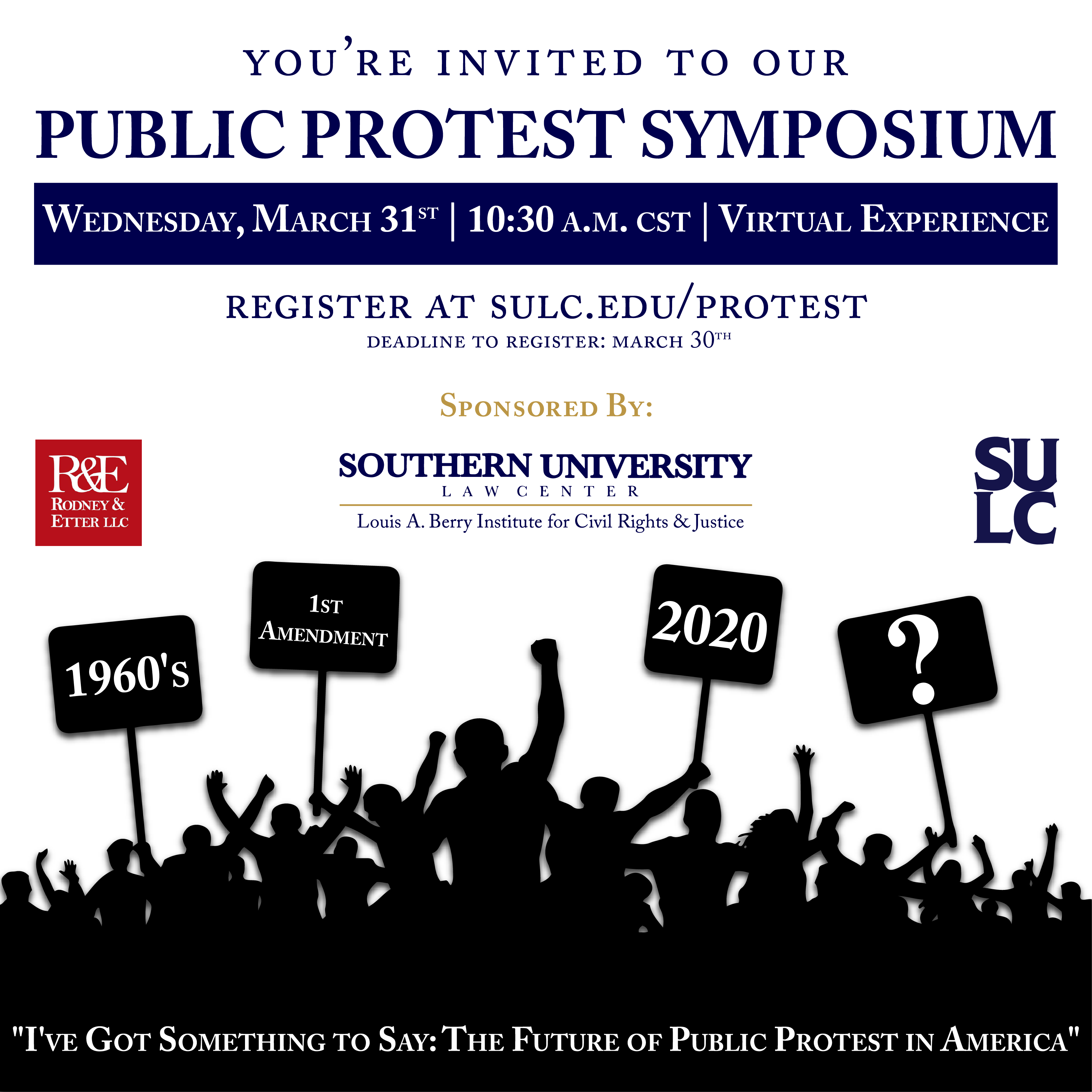 Those on the pulse of social justice and politics are continuously working for progress and weighing how public protest will shape America's future. As a response, the Southern University Law is set to host a public protest symposium titled "I've Got Something To Say: The Future of Public Protest in America" on Wednesday, March 31, beginning at 10:30 a.m.
"Understanding the history and current jurisprudence concerning the application of the First Amendment to public protest is essential information in today's hyper-charged environment where students are again 'taking it to the street,'" said Deleso Alford, event coordinator and professor at the Southern University Law Center. "The conversations occurring during this symposium contain essential information for students, protesters, government, and public administrators at every stage of physical and online protest. It may even save lives."
Keynote speakers include Don Hubbard, a New Orleans Civil Rights leader who played a substantial role in the city's desegregation efforts, Judge Edwin A. Lombard, whose career has been dedicated to civil justice, and Doratha 'Dodie' Smith-Simmons, a Freedom Rider and early member of the New Orleans chapter of the Congress of Racial Equality (CORE).
'Public Protest and Confrontation,' 'Public Protest and Mental Health Consequences' and 'The Future of Public Protest' are a few panels that will take place during the symposium. Panelists will include Roy J. Rodney Jr., founder, and managing partner of Rodney and Etter Law Firm; Alaina Bloodworth, director of equity, diversity, and inclusion for the Baton Rouge Office of Public Defender; Lakeitha Poole, chief executive officer of Small Talk Counselling, and more.
This event was made possible by the contributions of the Rodney and Etter Law Firm. The New Orleans-based law firm made a $10K donation to the Law Center, half of which stems from a class-action suit settlement surrounding public protests after Alton Sterling's death.
The virtual event is open to the public; however, registration is required to attend the event.
For more information and access to registration, visit www.sulc.edu/protest.
RSS News Feed