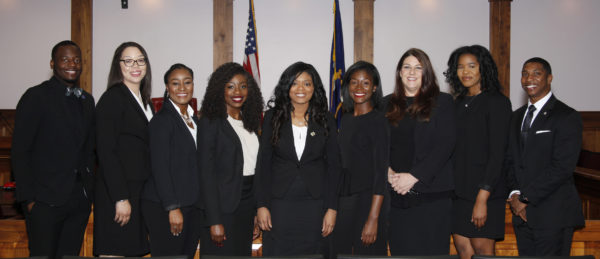 The Moot Court Board
Left to Right: Gary Williams, Danielle Kennebrew, Lianna Oliver, Stefanie Stephens, Marissa Johnson, LaDeisha Woods, Tara Melancon, Cheyenne Wilson, and Dmitrius McGruder. Not pictured are members Denevia Thomas, Richard Montgomery, Ryan Lloyd, and Tanya Hamilton.
PURPOSE & OBJECTIVES
The purpose of the Moot Court Board shall be to conduct and administer the Moot Court competitions of Southern University Law Center and manage the participation of its members in competitions abroad.
The objectives of the Board are to promote the development of oral advocacy and legal writing skills of its members through inter-school and intra-school Moot Court competitions, to argue and advance the education goals of the Law Center and its body by providing meaningful educational and leadership training opportunities, and to encourage its members to attain their professional goals.
---
For further information, please contact the Southern University Law Center Moot Court at mootcourt@sulc.edu.