Leading entertainment companies take center stage at annual Sports and Entertainment Symposium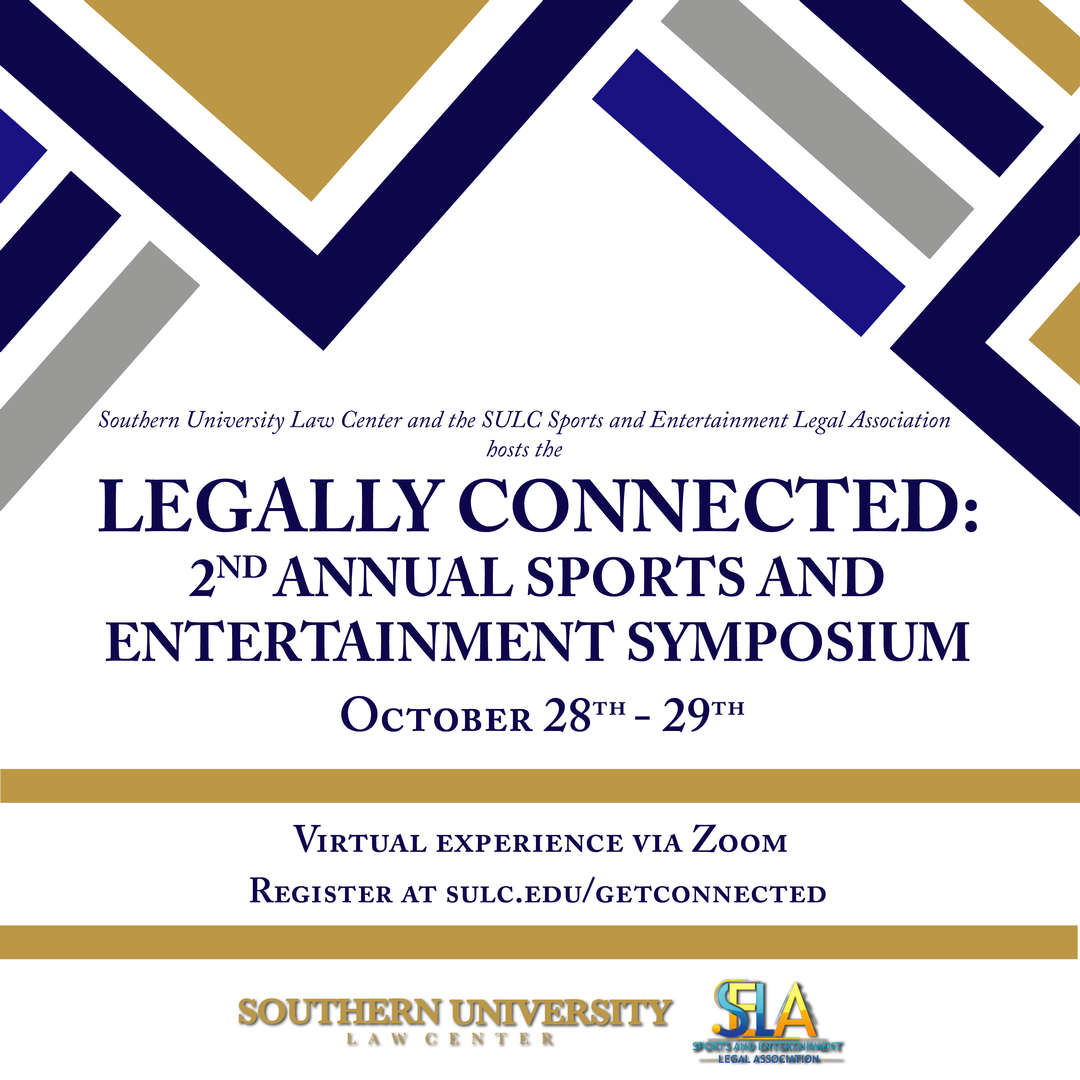 Despite a global pandemic, the sports and entertainment industry has continued to rocket with groundbreaking initiatives and accomplishments. In an effort to engage students with industry leaders, Southern University Law Center, in conjunction with its Sports and Entertainment Legal Association, is hosting its second annual Sports and Entertainment Symposium taking place on October 28 and 29. This year's theme is "Legally Connected".
"After a successful inaugural event, it became apparent that we needed to further develop programming stemming from this soaring industry," said Marla Dickerson, associate vice chancellor of Innovation and Strategic Partnerships and Initiatives at the Southern University Law Center. "This year, we want our students to get "connected" and hear from to c-suite executives on where the industry is progressing and how our students can be at the forefront of this innovative journey."
Participants will receive noteworthy legal knowledge and the "inside scoop" from the leading and trending companies and firms. Panelists include representatives from Sony Pictures Entertainment, Diverse Representation, Disney Pixar, The Fowlkes Firm, Atlanta Hawks, LinkedIn, Echo Lake Entertainment, Loeb and Loeb Law Firm, Black News Channel, and a host more.
The two-day student-led virtual event schedule includes panels, such as "The Right to Copy", "Deep Dive with the Black News Channel", "Women in Sports Entertainment", and more.
"We've developed a robust schedule of presentations for our participants that will allow them to immerse themselves within the industry," said Dickerson. "The goal and focus of this symposium is exposure of our students. This symposium is meant to be educational, informative, and to broaden the acceptance and implementation of the concepts of diversity, inclusion and access for all."
The symposium began as a concept developed by a group of students that expressed interest in the sports and entertainment industry. Shortly after the inaugural event, the Law Center began fostering partnerships with executives and organizations to develop programming and secure internships and externships. Recently, the campus has begun a well-attended Entertainment Law Speaker Series where legal and entertainment professionals speak to students on the up-to-the minute topics plaguing the walls of the industry.
Registration for the virtual event is now open at www.sulc.edu/getconnected. The website also contains the event schedule, as well as bios on the panelists. To participate in the event, fees are $35 for students and $60 for general admissions, and the event is open to the general public.
For more information, contact Marla Dickerson at mdickerson@sulc.edu.
RSS News Feed