Five to be inducted into the 2021 SULC Hall of Fame, November 6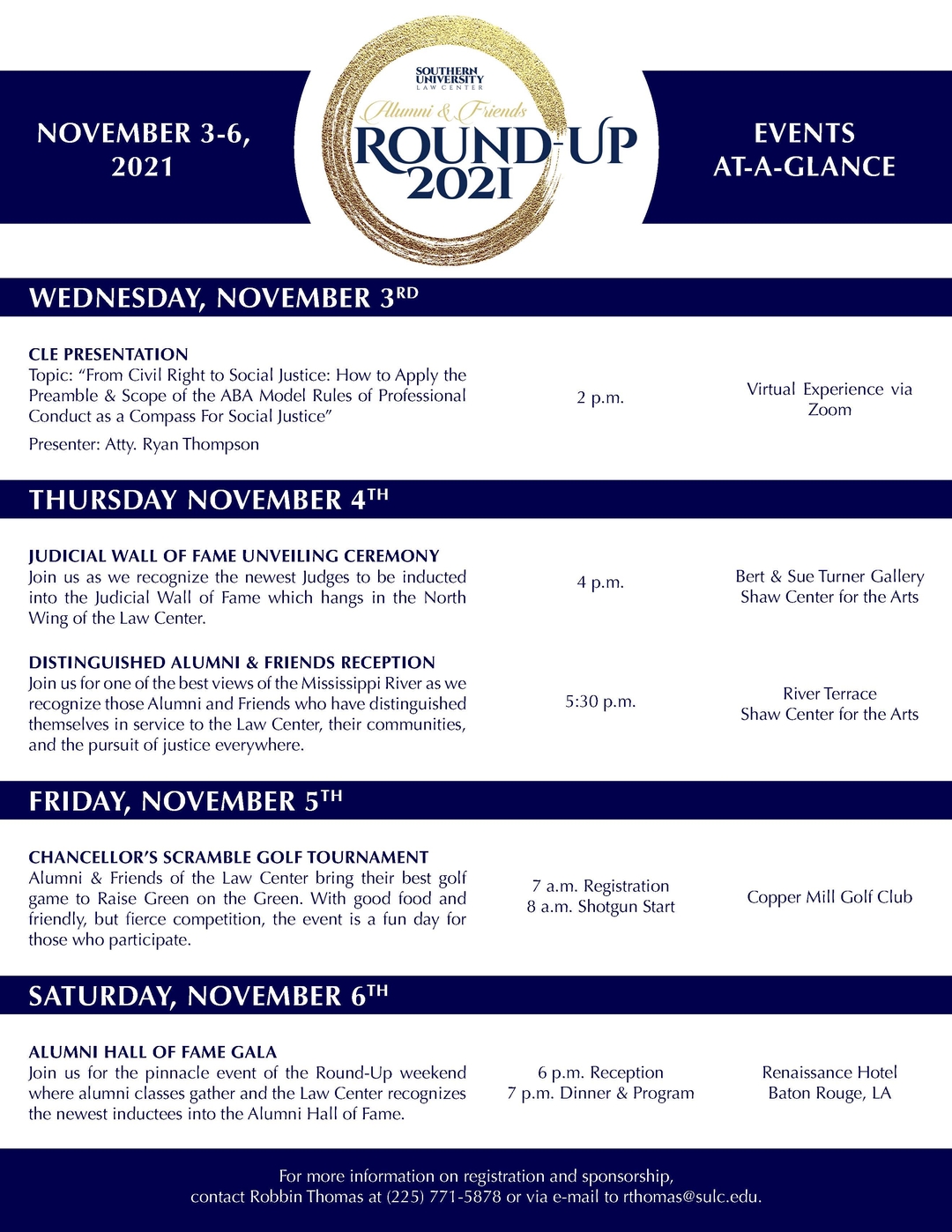 Five alumni will be inducted into the Southern University Law Center Hall of Fame during the 2021 Alumni Round- Up taking place November 3-6.
SULC alumni Charles Cravins, '07; Trina A. Eaddy, '98; Alejandro R. Perkins, '04;Lawrencia D. Pierce, '99; and Lindsey Scott, '98, will receive this Hall of Fame honor as part of the four-day virtual event taking place on Saturday, November 6, at 7 p.m.
Other alumni will be recognized for their career distinctions at the Distinguished Alumni and Friends reception to be held on. Thursday, November 4, at 5:30 p.m on the River Terrace of the Shaw Center for the Arts. Honorees are Samuel L. Milledge II, '09; Brian L. Ponder, '11; Chauntelle R. Wood, '13; Robert B. Vincent (posthumously), '10.
In addition to the Distinguished Alumni and Friends reception and Hall of Fame Gala, the Alumni Round-up will include the following events:
Virtual Continuing Legal Education Seminar with the topic of "From Civil Right to Social Justice: How to Apply the Preamble & Scope of the ABA Model Rules of Professional Conduct as a Compass For Social Justice", Wednesday, November 3, 2-3 p.m.
Judicial Wall of Fame Unveiling and Installation Ceremony, Thursday, November 4, at 4 p.m. at the Manship Theatre, Shaw Center for the Arts. Honorees are: Honorable Sean P. Early, '83; Honorable Anthony Eiland, '06; and Honorable James Wilson, '94.
Chancellor's Golf Scramble, Friday, November 5, at 8 a.m. at Copper Mill Golf Club in Zachary, Louisiana.
Due to COVID-19 protocols, seating at the 2021 Alumni Round-Up will be limited. Tickets to events will be sold until all available seats are filled. This year's events, with the exception of the CLE and golf tournament, will be livestreamed on the Law Center's YouTube Channel. Masks are mandatory for Round-Up indoor events.
For more details and to register for any of these events, contact Robbin Thomas, director for Alumni Affairs, (225) 771-5878. For questions and more information regarding the scramble, contact Dr. Mary Johnson (mjohnson@sulc.edu) or Atty. Koshaneke Gilbert (kgilbert@sulc.edu).
RSS News Feed