Law Center professor sheds light on disability diversity and inclusion in the legal industry during National Disability Employment Awareness Month (NDEAM)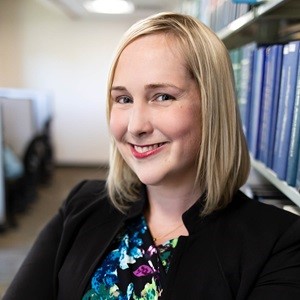 October is National Disability Employment Awareness Month (NDEAM.) NDEAM is designed to educate about disability employment issues and celebrate the many and varied contributions of America's workers with disabilities. The Southern University Law Center's, Professor Katherine MacFarlane, is a recognized disability rights advocate and leading expert on civil rights litigation who has spent her career exploring disability law.
The theme for NDEAM 2021, "America's Recovery: Powered by Inclusion," reflects the importance of ensuring that people with disabilities have full access to employment and community involvement during the national recovery from the COVID-19 pandemic.
"It is important for people with disabilities to have same opportunities as everyone else, to enjoy employment opportunities, purchase goods and services, and participate in state and local government programs." said MacFarlane. "The Americans with Disabilities Act (ADA) is a federal civil rights law that prohibits discrimination against people with disabilities in everyday activities, just as other civil rights laws prohibit discrimination based on race, color, sex, national origin, age, and religion."
MacFarlane says there are many ways for employers to remain aware of individuals with disabilities and to ensure those individuals are being treated fairly. This includes, reviewing company's policies to be sure they convey a commitment to an inclusive workplace culture.
"Awareness of disability should also mean awareness of the proper language to use when talking about disability. Be mindful of the diversity in the disability community and try to adhere to everyone's specific needs." said MacFarlane.
At the age of 1, MacFarlane was diagnosed with Rheumatoid Arthritis, an autoimmune disease that causes joint pain and deterioration. "Even though I've been disabled ever since, I didn't identify openly as a person with disabilities until my early 30s, mostly out of fear that people would treat me differently or think that I wasn't able to do my job." said Macfarlane. "But once I did, I found a supportive community of people with disabilities who changed the way I think about life. It's also turned me into a mentor for students, lawyers, and other professors with disabilities, which I find incredibly rewarding. Last year, I co-founded an affinity group for law professors with disabilities which was recently recognized as a formal AALS section."
The National Disabled Law Students Association supports and advocates on behalf of law students with disabilities. It helps disabled law students navigate the often-complex process of receiving accommodations while entering the legal profession, from the moment they decide to take the LSAT to the time they're hired as attorneys.
If a law student, staff member, or faculty member with disabilities wants to discuss their experiences, Professor MacFarlane says her door is always open.
RSS News Feed