Southern University Law Center partners with Generation Esports to host King of the Court NBA Tournament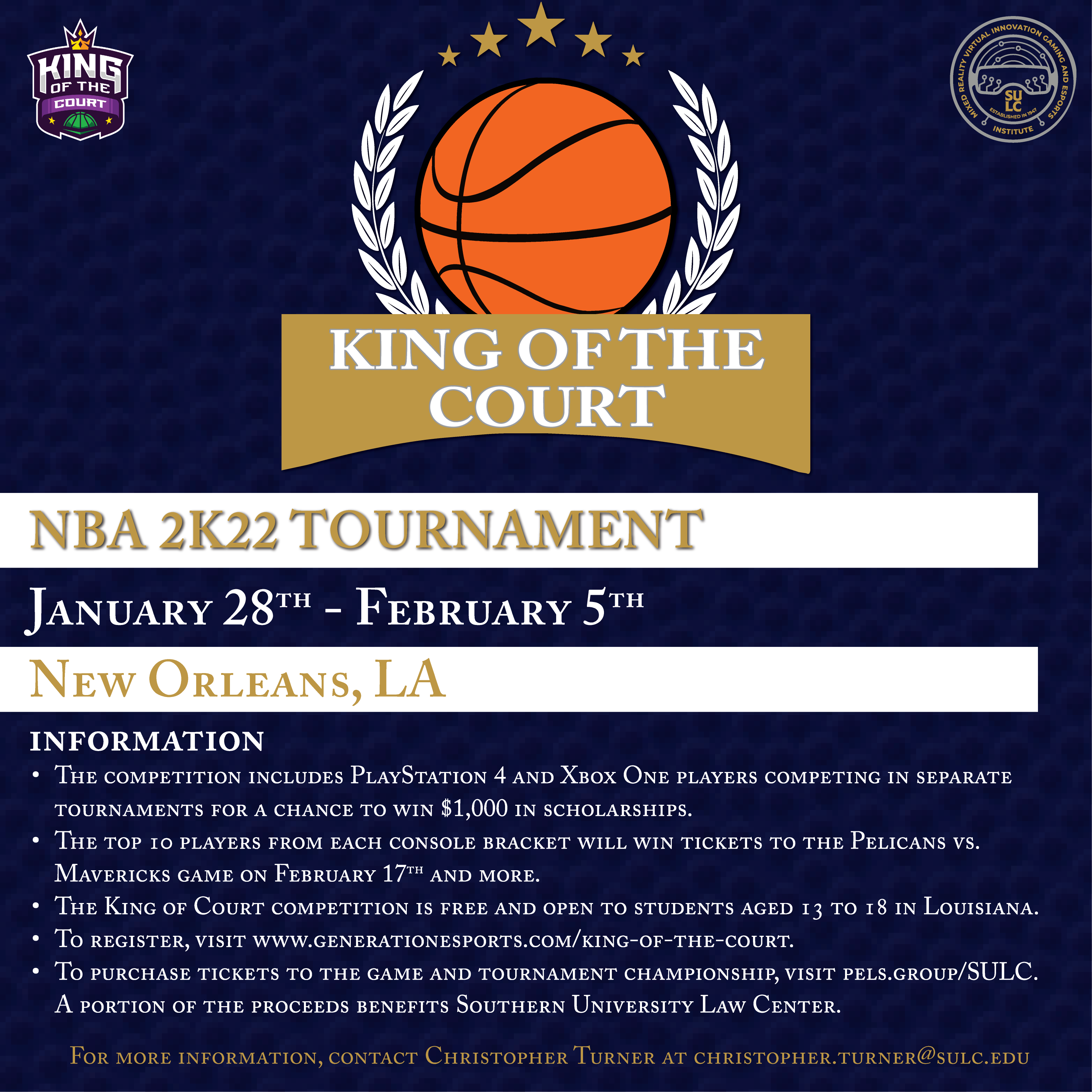 The Southern University Law Center (SULC) will host the upcoming King of the Court NBA 2K22 Tournament powered by Generation Esports. The competition takes place January 28- February 5, 2022, in New Orleans. The top 4 gamers will compete LIVE at the Smoothie King Center on February 17!
The competition includes PlayStation 4 and Xbox One players competing in separate tournaments and playoff brackets for a chance to win $1,000 in scholarships. Playoffs will be conducted in a single-elimination format several times throughout the weekend. Players will be put into groups during the round-robin stage, with multiple possible playtimes each day.
The top 10 players from each console bracket will win tickets to the Pelicans vs. Mavericks game on February 17, in addition to a private gaming deck with King cake, $5 food voucher, Pelican's jacket, and more.
"Underrepresented communities get a chance to not only compete but be exposed to the ecosystem of gaming and esports. This is a small step in the process to expose the next generation to the possibilities of law, mixed reality, gaming, esports, VR, and other innovations," said Chris Turner, coordinator of the Southern University Law Center's Mixed Reality Virtual Innovation and Esports Institute. "Thank you again to Generations Esports and the New Orleans Pelicans for their support of the Institute. As we highlight these college and career pathways."
The King of Court competition is free and open to students aged 13 to 18 in Louisiana.
To register, visit www.generationesports.com/king-of-the-court.
To purchase tickets to the game and tournament championship, visit https://pels.group/SULC. A portion of the proceeds benefits Southern University Law Center.
For more information, contact Christopher Turner, coordinator for Mixed Reality Virtual Innovation Gaming and Esports Institute at christopher.turner@sulc.edu.
RSS News Feed