SULC, educational partners host national civil rights conference in June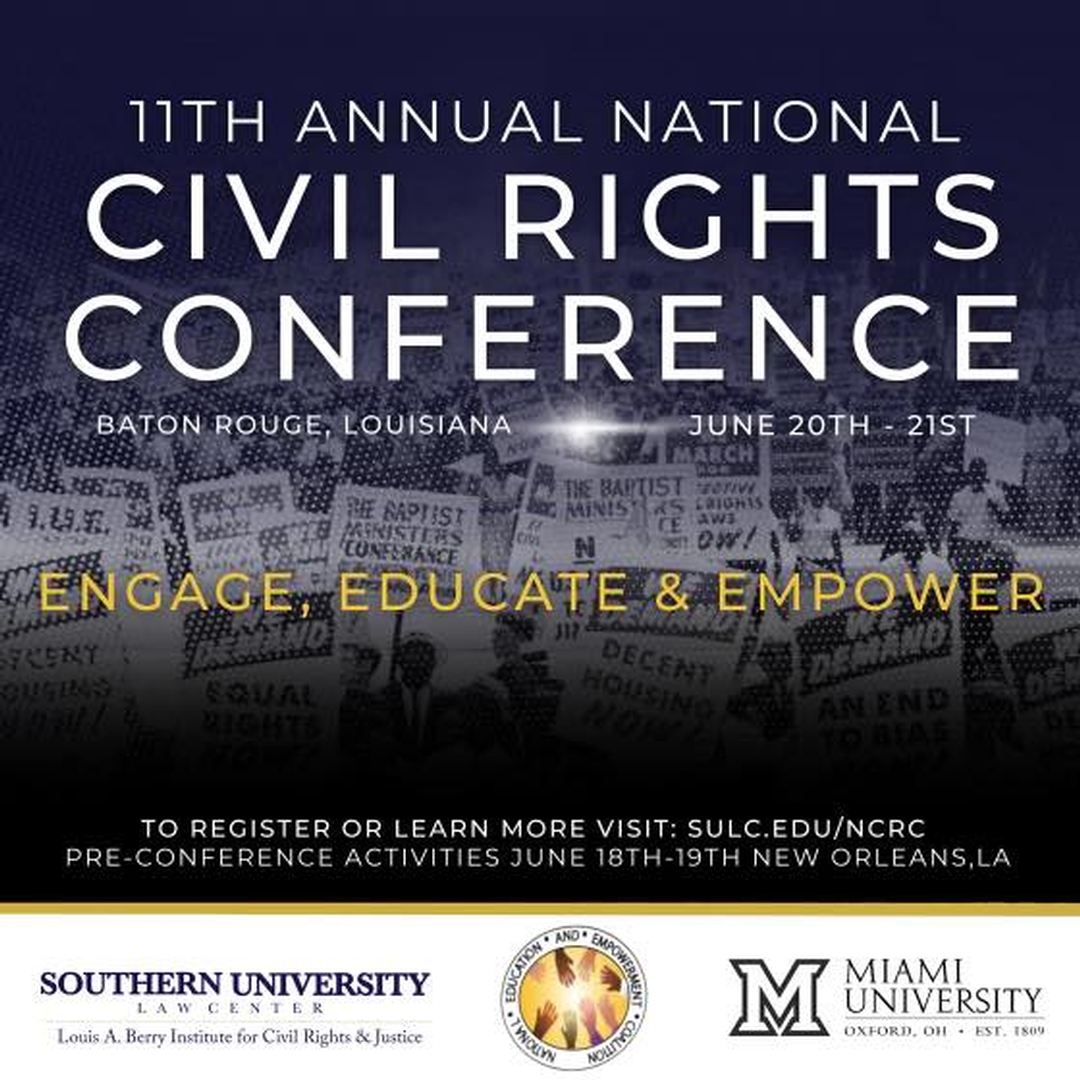 The Baton Rouge Bus Boycott, Voting Rights & Redistricting, Restorative Justice and other important historical and contemporary civil rights issues will be highlighted at the 11th Annual National Civil Rights Conference. Southern University Law Center's Louis A. Berry Institute for Civil Rights and Justice is proud to host and co-sponsor this year's conference in Baton Rouge, on June 20-21, in partnership with the National Education and Empowerment Coalition, Inc., and Miami University. Pre-conference activities will take place at historic locations throughout New Orleans, June 18-19.
"This year, more than ever, we need to inform, educate and engage the populace in conversations and activities dedicated to civic engagement and, especially, the importance of the vote," Keith D. Parker, chairperson of the 2022 National Civil Rights Conference. "The upcoming National Civil Rights Conference in Baton Rouge will provide platforms and opportunities for synergistic dialogues on civic and collective engagement."
"This conference will explore our past, present and future through tours, trainings, presentations, conversations and art, highlighting the civil rights veterans of Louisiana and honoring those who risked it all to open doors for us to walk through," said Ada Goodly Lampkin, director of the Louis A. Berry Institute for Civil Rights and Justice. "Louis A. Berry, a renowned civil rights attorney and advocate who made tremendous strides in the field, helped to start the Southern University Law Center and became one of its first deans. It is fitting that we celebrate his legacy of civil rights as we also celebrate the 75th anniversary of the Southern University Law Center."
The conference theme is "Engage, Educate & Empower." Baton Rouge and New Orleans will serve as host cities for this year's conference. The historic conference opens on June 18 in New Orleans with free Restorative Justice Circle trainings for youth in the community, a historic marker unveiling, tours, and more. Attendees can also attend a special Father's Day event honor the lives of local civil rights veterans or a private screening of "A Crime On The Bayou," which tells the story of Gary Duncan, a Black teenager arrested and convicted for touching a white boy's arm in Louisiana in 1966.
Baton Rouge conference activities will take place on the campus of Southern University and the Baton Rouge Hilton Capitol Center.
Attendees will be able to take tours and hear presentations on the murders of Denver Smith and Leonard Brown from Donney Rose, award-winning writer, artist, and chief content editor of The North Star, and also on The Baton Rouge Bus Boycott, featuring Eugene Collins, president of the Baton Rouge Branch of the NAACP. Attendees interested in issues around voting rights and Redistricting are encouraged not to miss presentations by Carolyn Jefferson-Jenkins, president of the League of Women Voters of the United States, Cecile Scoon, president of the League of Women's Voters in Florida, and many more.
"It is important that we also engage our young people and HBCUs in conversations and action around civil rights, which are under attack in nearly every city and every state in this country," said Lampkin.
Youth attendees will participate in sessions covering a range of topics, such as human rights, therapeutic art, and more.
Southern University alumnus and award-winning filmmaker Keith Beauchamp will host a screening of his documentary, "The Untold Story of Emmett Till" and the Civil Rights & Restorative Justice Project will highlight the work of local law students to uncover truths and seek justice.
Registration begins at $75. To learn more and to register, visit sulc.edu/ncrc.
RSS News Feed