Law students experience negotiation simulation in annual music contract competition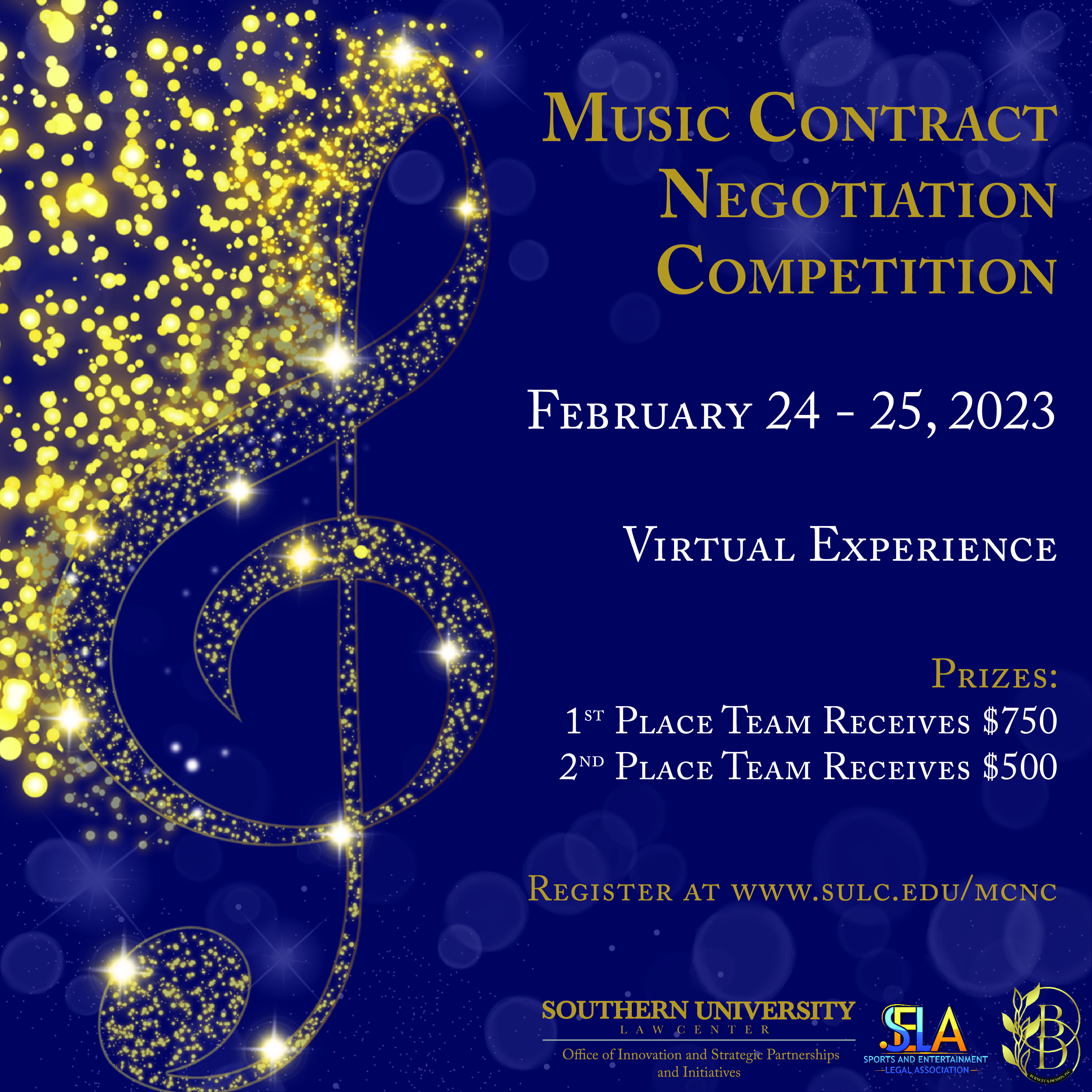 Southern University Law Center's Sports and Entertainment Legal Association, along with partners, Diverse Representation and Burnett and Denson, LLC., will host its annual Music Contract Negotiation Competition (MCNC) scheduled for February 24-25, 2023. The purpose of this virtual competition is to provide a situational simulation of the contract negotiations generally encountered by the agents, managers, or lawyers of aspiring professional recording artists.
"The Music Contract Negotiation Competition allows students to receive hands-on experience and detailed feedback on negotiating a realistic contract," said Cierra Sanders, third-year law student and president of the SULC Sports and Entertainment Legal Association. "Every law student can benefit from this competition as it will enable them to sharpen their negotiation skills, a helpful tool for any good lawyer. Last year's competition comprised students interested in working in the music industry and those just looking to enhance their skills. All walked away with invaluable resources to aid in their journey of being future lawyer leaders."
The competition is open to current law students where they will be afforded the opportunity to sharpen their negotiation skills as well as their knowledge of actual music contracts. Broken up into three rounds, teams will participate in the management deal round resulting in the top six teams advancing; the Indie record deal round where the top two teams advance; and, the finale, the major record deal round which will result in the winner and runner-up. Teams will get the opportunity to represent either the recording artist or the contracting entity and will receive a simulated data pool and a list of generally accepted strategy techniques. Some of the top music attorneys and industry professionals from across the country will serve as judges for the competition, including Shay Lawson, managing attorney at the Law Firm of Lawson McKinley and professor at Emory University School of Law; Karl Fowlkes, an internationally recognized entertainment lawyer, music business professor and entrepreneur; Bernie Lawrence Watkins, principal attorney at the law firm of B. Lawrence Watkins & Associates, PC; and more.
"The Law Center's MCNC simulates the intersectionality of theory and practice, a first-hand immersive experience designed to expose law students to the rigors of music industry deal-making and contract negotiations," said Torrence Burnett, Law Center alumnus and competition creator."
"A report recently released by Goldman Sachs stated that the music industry is undergoing a massive revival and that music revenue is forecasted to double to about $131 billion by 2030," said Jaia Thomas, chief executive officer and founder of Diverse Representation. "As the music industry continues to grow and expand, Southern University Law Center's Music Contract Competition provides students with the unique opportunity to simulate the experience of music attorneys, agents, and managers as they prepare for careers in this ever-evolving industry."
This is the only music contract negotiation competition in the country. Following the competition, prizes will be presented to the winning team and the runner-up. The first-place team will receive $750, and the second-place team will receive $500.
Registration fees start at $500. For more information and to register, visit www.sulc.edu/mcnc.
RSS News Feed