The Shreveport Sagacious Seven complete first semester in new pilot program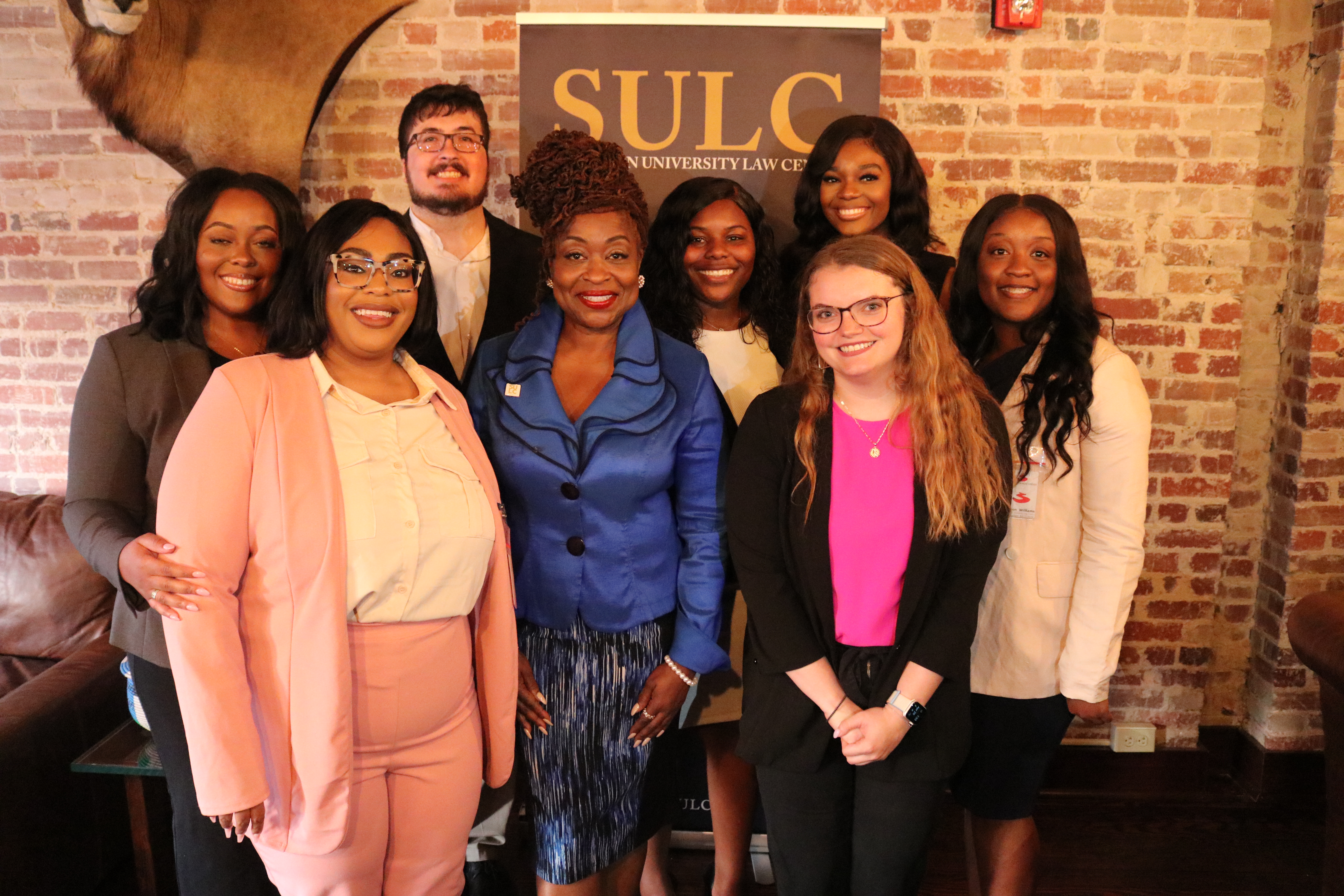 The Southern University Law Center will celebrate another history-making moment during the 75th Anniversary year and commencement this month. The "Shreveport Sagacious Seven" will walk across the stage during SULC's Spring Commencement in Baton Rouge on May 21as the first graduating cohort of the SULC Semester in the Shreveport Pilot Program. The semester program allowed students to finish the final semester of their law school journey, in the Shreveport/Bossier region while preparing for the Louisiana Bar exam and pursuing experiential learning opportunities.
The phase, known as a "Semester in Shreveport", consists of selected third-year law students completing up to 16 hours of coursework in Shreveport during their final year in Spring 2022 and 2023. The "Shreveport Sagacious Seven" included Rachel Hughes, Allison Williams, Tiberlee Barnum, Tanner Yeldell, Jakira Gibson, Kourtnee Jones, and Aja Winslow.
"As SULC prepares to commemorate its 75 years in existence, the year 2022 marks the manifestation of phase one of the Semester in Shreveport program," said Deleso A. Alford, Off-Campus Instructional Site (OCIS) Director. "Seven trailblazing third-year law students relocated to Shreveport. They completed their final semester of law school while partaking in regional extern opportunities from Caddo Parish Commission, Caddo Parish Clerk of Court, Office of the City Attorney – City of Shreveport, Ochsner LSU Health, LSU Health Sciences Center Shreveport and serving as judicial externs with the Louisiana Second Circuit Court of Appeal, Shreveport City Court, Division D and the Caddo Parish Juvenile Court.
During phase one of the pilot, curriculum and student offerings were solidified, upgrading of the Shreve Memorial Library structure began, and regional learning, employment, and relocation opportunities were established.
The journey to establish a pathway to increase legal education capacity in the Shreveport/Bossier region started with the development of a strategic proposal submitted by John K. Pierre, Chancellor of the Southern University Law Center, and approved by the Louisiana Board of Regents.
The goal is to increase the number of lawyers and create additional capacity to deliver legal education in the Shreveport/Bossier region. It was determined that creating an SULC branch in Shreveport is feasible to increase legal education capacity in the area.
"To whom much is given, much is required," said Alford. "A vision to increase access and opportunities for legal education in the Northwest Region is being realized! We are following the blueprint laid forth by Chancellor Pierre's strategic proposal for the implementation of a phased approach to an OCIS."
Alford went on to say, "The Louisiana Board of Regents' approved plan is being executed by the unwavering support of strong alumni and stakeholders fueled by a seriousness of purpose and collaborative partnerships of local government, city government, and education."
It was a group effort to make this program come to fruition with the help of the Law Center's alumni in the Shreveport/Bossier region and state legislators, and Caddo Parish state officials. The desire to build Shreveport's legal education was essential, and the Law Center wanted to serve the area for this purpose.
With the combination of a local state government initiative, this program is the first time in Louisiana that the local government invested in education in the Shreveport/Bossier region.
One of the externship opportunities came through Judge Shonda Stone's office. Judge Stone is a Southern University and Southern University Law Center graduate and the daughter of Jesse N. Stone. Jesse N. Stone broke color barriers in Louisiana and was one of the first five students to graduate from the Law Center in 1947.
Judge Stone is bringing what her father started 75 years ago full circle by helping increase the number of lawyers in the Shreveport region. Her father was also the first African American attorney to open an office in 1950 and serve on the Louisiana Supreme Court.
Tiberlee Barnum was placed in the externship with Judge Stone and said deciding to participate in the program has been one of the best experiences. "I had the opportunity to work with Judge Shonda Stone, and it does not pass me the historical significance of this full-circle moment. She has consistently affirmed me and breathed an air of confidence in me that I am not sure I had before this experience," said Barnum. "I have been able to network with sitting and past appellate judges. They know my name and frequently stop by my office to offer words of wisdom and helpful insight on the profession."
The program allows students to explore all avenues their legal education can take. Students are not only working in the traditional legal setting but experiencing the practice of law in other industries like healthcare. Rachel Hughes did her externship at and LSU Health Sciences Center Shreveport and Ochsner LSU Health with attorneys Carranza Pryor and Lucie Thornton to further explore her interest in health law and medical malpractice cases.
Hughes says that her externship connected her law school experience to the real world. "I was able to see in real-time the reason and rationale for the rigor of law school. In my externship, I was able to read fill cases and create statements of facts on procedural history, something my supervisor had not been able to do," said Hughes. "My law school experience (through this program) has prepared me for the real world."
The program has instilled confidence in the law students because it has prepared them for life after graduating through experiential-learning opportunities and potential employment opportunities in the underserved northwest region.
Jakira Gibson did her externship with the Caddo Parish Juvenile Court under Judge Ree Casey Jones. Gibson said that this experience was positive and allowed her to work closely with a woman in such a high position and was the first time the judge she worked for looked like her- an African American woman.
"This makes me think of the impact Judge Ketanji Brown Jackson has had on other judges, attorneys, and law students that look like her," said Gibson.
Upon the successful completion of Phase I, transition to Phase II, "Year In Shreveport" pilot for SULC third year students completing their final year of law school and Phase III, "Branch Campus" pilot designed to serve nontraditional students in a 4 year, part-time Evening Weekend 90- hour program will require the attainment of additional resources and satisfactorily meeting accreditation requirements set forth by both the American Bar Association (ABA) and Southern Association of Colleges and Schools Commission on Colleges (SACSCOC).
For more information on the OCIS in Shreveport/Bossier region visit, Southern University moves forward with off-campus instructional site in Shreveport/Bossier Region - Southern University Law Center (sulc.edu).
RSS News Feed