National Civil Rights Conference
11th Annual National Civil Rights Conference
June 18 - 21, 2022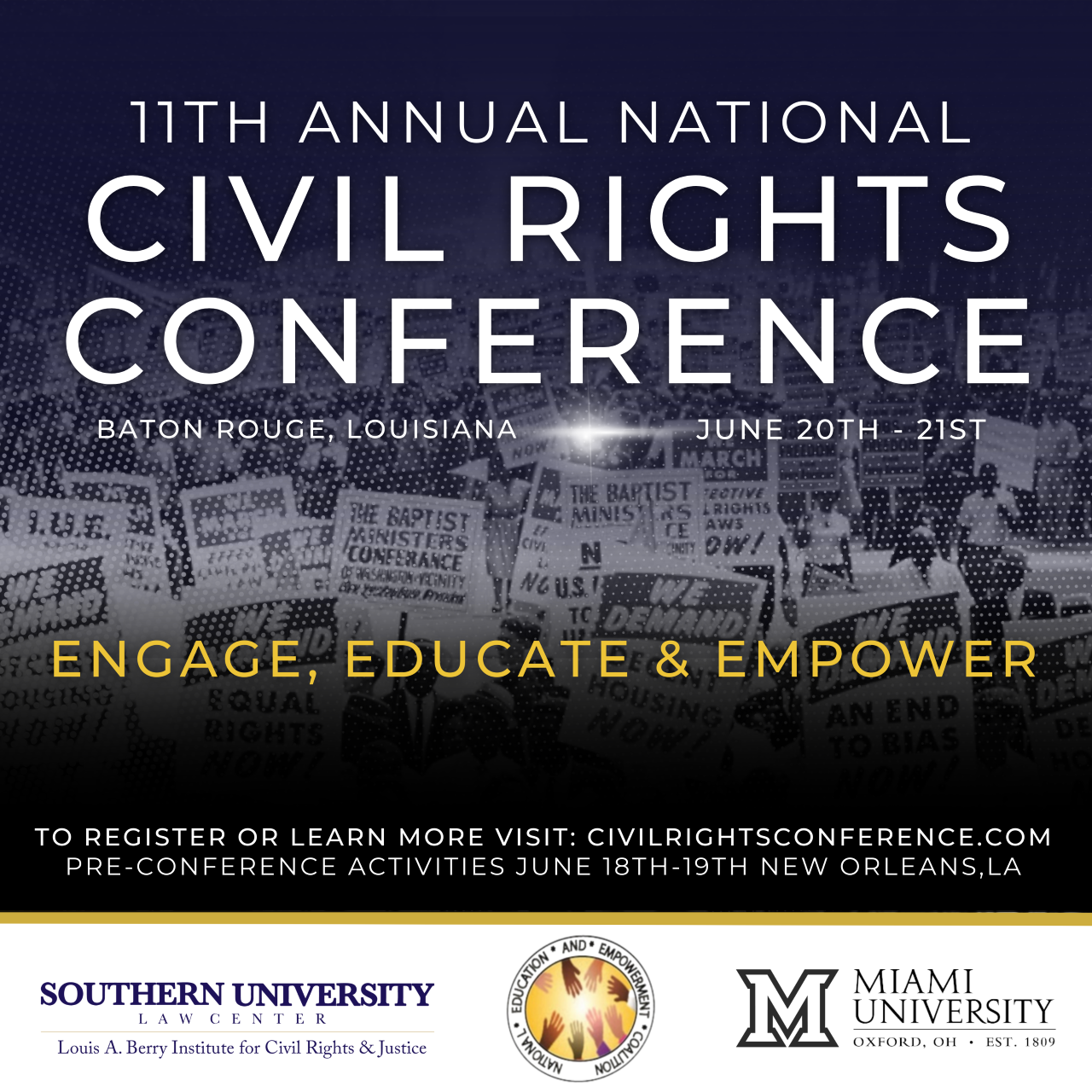 The Louis A. Berry Institute for Civil Rights & Justice - Southern University Law Center will host the 11th Annual National Civil Rights Conference. Pre Conference activities will be held June 18-19 in New Orleans, and the Conference will be held June 20-21 in Baton Rouge, Louisiana.

The Southern University Law Center and Southern University System were chosen to host the conference because New Orleans and Baton Rouge, LA, are the ideal places to have an explosive conference engaging civil rights leaders, HBCU alums, and students.

The Louis A. Berry Institute for Civil Rights & Justice committed to sponsoring the conference, sharing its history of activism tied to Freedom Summer and illuminating the numerous civil rights landmarks and sites around the Southern University campus.

The theme for the 2022 conference is Rise, Advocate, Educate, and Cooperate: Fusing Power and People.
Registration
Conference attendees and program participants are required to register. Registration includes admission to all sessions, exhibit halls, and daily keynotes.

Service-learning training/registration (10 to 20 instructional hours or 1.0 to 2.0 CEUs) will be offered (at a small fee) to registered participants and specific audiences such as teachers, principals, and academic leaders. More information on registering for the conference can be found on the Civil Rights Conference website.
Hotels
Lodging Period: June 20-22, 2022
Individuals are responsible for making their reservations. Upon identifying yourself with the group, you will be offered the negotiated group rate. For additional rates information, please visit the Civil Rights Conference website.
Hilton Baton Rouge Capitol Center
Hilton Baton Rouge Capitol Center - Guest Reservations
General Inquiries and Conference Information
Conference Dates: June 20-21, 2022
Email: kdparker@civilrightsconference.com
Web: http://civilrightsconference.com
Phone: 706-614-8593
---