11th Annual RootsCampLA Conference
RootsCampLA Conference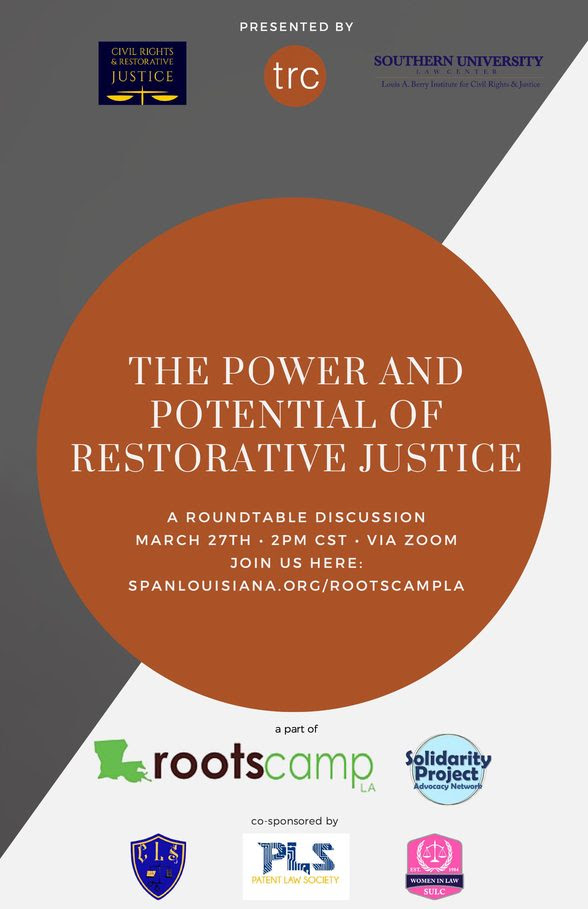 On Saturday, March 27th, 2p.m. CST, The Louis A. Berry Institute for Civil Rights & Justice at Southern University Law Center in alliance with The Restorative Center (TRC) and The Civil Rights and Restorative Justice Project at Northeastern University School of Law is hosting a roundtable discussion on The Power and Potential of Restorative Justice as part of the 11th Annual RootsCampLA Conference.
Join TRC Founder, Shailly Agnihotri for a roundtable discussion on the power and potential of restorative justice. This event is part of RootsCamp LA 2021 - the convening of over 150 forward thinking activists across the state of Louisiana.
This discussion will be conducted in a round table format over Zoom and will explore the meaning of restorative justice and how restorative justice can positively impact our communities. Panelists include formerly incarcerated advocates, community leaders, professors, and SULC students working in restorative justice, as well as prosecutors and police.